Are you a music producer, have a lot of ideas, and translate it all into music? – It's time to sell! Today the market is full of music venues and streaming services that allow entering not only the markets of Russia, Ukraine and the CIS countries, but also American venues.
Of course, the competition is great, and you will have to work hard to start earning your first money. With a little effort, you can open your own online store, modernize it, and it will sell your music 24 hours / 7 days a week.
As a beatmaker, composer or performer, you can create a good beat in a few hours and put it up for sale right away. In other professions, it takes much more time and cost to sell a product. Just think how much time and money it takes to create one computer program.
— See also: 5 basic track mixing techniques —
So what are the best sites to sell your music online? To be more objective, we asked this question to several popular beatmakers in 2016.
"We have our own site, AnnoDominiNation, which is publicly available. Despite the peculiar style, I still managed to implement music through it. In addition, I use the BeatStars site – this is a head and shoulders for a young musician. It has all the services you need to promote music. Sell music can be anywhere. For example on YouTube, SoundClick and ContentID ", – AnnoDomini
"I currently sell my music on Beatstars. I used to sell only on Soundclick. Nowadays you can get a steady income from both sites (unless you have an exclusive contract). Of course there are other sites like MyFlashStore, Rocbattle, etc." Even YouTube can be a good place to monetize views, but I choose sites that have the largest number of interested people in my style. "- KrissiO
"My favorite place to sell music is BeatStars. The service allows you to keep 100% of your sales. It also works with YouTube (to help protect copyrights). All this allows me to monetize songs on YouTube and Soundcloud. Wish I knew about this site 3 years ago! ", – says Mantru.
---
The best sites where you can sell your instrumentals online are:
BeatStars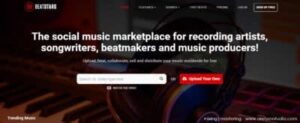 According to research, BeatStars is indeed the most popular and user-friendly site for selling hip-hop cons. Instrumentalals from all over the world are hosted here and you can also both sell and buy music. There are many services and useful services in it for distribution to other sites, as well as for increasing listens.
Myflashstore
Myflashstore is another big market for producers. Key features: 0% commission on sales, instant payment for most payment services (PayPal, Stripe, etc.), compatible with mobile devices, has discounts, coupons and newsletters.
— See also: Buses, Auxes, Sends, Returns – what is it and how are they useful? —
Rocbattle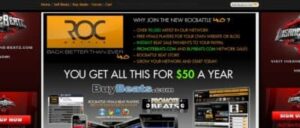 Rocbattle is a popular site with over 90,000 producers from all over the world. Has a full set of both free and paid features for music promotion. Recently, it has poor support and problems with payments, we do not recommend using it as the main platform for promotion.
BeatBrokerz 

The BeatBrokerz website showed great promise, but unfortunately it has completely ceased to exist. In 2016, it hosted over 3,000 producers and over 40,000 exclusive instrumentals.
— See also: Concepts: sound engineer, mixing engineer and mastering engineer —
If you have no experience working with such resources, you will have to spend a lot of time to understand them and not get burned during the first sales. If your goal is to make money from music, then you should understand that this is a business where you should invest in advertising, promotion and PR, and in return receive money and popularity. Do not forget about maintaining social networks (VK, Facebook, Instagram, TikTok …) If you just post your work, and this is the end of the promotion, the music will simply drown against the background of other producers.
---
If you liked our article, please share it with your friends using the buttons below. Do you need high-quality mastering in order for a track to sound on a par with commercial works? Order a free demo mastering and feel the difference.