A digital audio workstation (DAW for short) is software used to record, edit, mix and master audio files.
DAWs come in a variety of configurations, from a tablet and laptop application to a complex processor controlled by a personal computer with many plug-ins. The program is used to produce and record music, radio, television, podcasts and almost any other situation where recorded sound is required.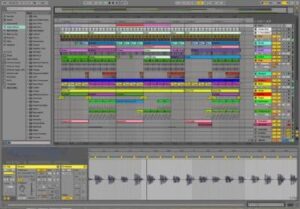 A traditional workstation has four main components: a computer, a sound card (or audio interface), software for working with material, and at least one device for inputting or changing a signal (microphone, guitar, or another).
The computer acts as the host for the sound card, while the sequencer provides the interface and audio editing functionality. In turn, the sound card converts the analog signal to digital and vice versa. External controllers (such as MIDI keyboards) allow you to register musical parts into a new or existing song without delay.
— See also: 5 VST analyzers that will be useful to every musician —
Modern DAWs have extensive storage, editing, and playback capabilities. For example, musically, they can provide an almost infinite number of additional tracks for recording. A wide range of built-in effects, such as reverb and reflection, can also be provided to clean and enhance the overall sound.
Simple sequencers for phones, called the Mobile Audio Workstation (MAW), are used (for example) by reporters for interviews. Many of them can be found on the App Store and Google Play.
Personal computer DAW programs: Ableton Live, FL Studio, Steinberg Cubase, Reason, Apple LogicPro, Cockos Reaper, PreSonus StudioOne, Cakewalk Sonar, Avid ProTools, Bitwig Studio, MAGIX Samplitude, MixcraftPro, Renoise, MuTools MuLab, Steinberg Nuendo, ACID Pro Next, ACID Pro 9, MOTU Digital Performer, GarageBand, Ardor and others.