Sound analysis is an important part of processing. Analyzers help detect frequency conflicts, phase distortions, and other inaccuracies. Each mixing and mastering engineer must be able to use them and have them in his collection. Here are some of the best:
1. Blue Cat Audio Analysis Pack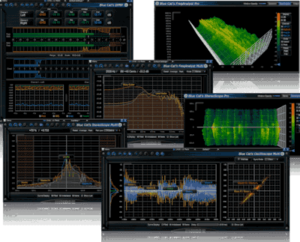 The Blue Cat package is a set of free analyzers for mixing and mastering.
In fact, this is one analyzer, divided into elements that are convenient to put on the master bus and use during operation. With minimal CPU load, you get an accurate graphic display. Included: DP Meter Pro, FreqAnalyst Multi, FreqAnalyst Pro, Oscilloscope Multi, StereoScope Multi and StereoScope Pro.
— See also: best plugins for cleaning sound from noise —
2. iZotope Insight

Among all the products from iZotope, Insight is designed specifically for sound analysis and is unique in its kind. It provides advanced features that are not implemented in other plugins.
At your fingertips there will be such modules: Levels, Loudness History Graph, Sound Field, Spectrogram and Spectrum Analyzer. The flexible interface can be extended to the entire monitor for comfortable operation. The cost of such an aggregate is $ 500, although the free tools of competitors give the same opportunities for free.
3. NuGen Visualizer

A fairly powerful analyzer that uses several types of measurements. It has all the elements listed earlier in iZotope, namely: Multiple level meter, FFT Spectrum Analysis, Spectrogram, Vector Scope and others.
The bonus is a customizable interface and a comparison mode for two audio sources (a useful feature for mastering engineers). License Price – $ 199
4. Voxengo SPAN

A free plugin from Voxengo with expensive features: Fast Fourier transform spectrum analyzer, Stereo, mid-side, surround spectrum analyzer, Stereo correlation meter and K level meter.
The products are used by many famous musicians, which once again confirms the quality and capabilities of the plugins.
5. MeldaProduction MAnalyzer

Also comes completely free and will be a good tool in your collection. Includes all 64-bit operations, M / S processing, EBU R128, ITU-R BS 1770-3 meter and much more.