Modern plugins are getting closer to recreating the warmth and character of analog devices. We have selected 7 free tools that in their algorithms not only add or compress frequencies, but also saturate them in a special way.
1. SGA1566 Tube Preamp
SGA 1566 Shattered Glass Audio gives you a single-channel vintage tube amp. The whole circuit simulates in real time and gives authentic analog sound. Use it as an exciter / saturator to increase the heat in the track (or a small grainy overload). The new version is lighter than its predecessor, and does not overload the computer processor!
Download: SGA 1566
— See also: Antares – Autotune 8 —
2. TDR Slick EQ

TDR Slick EQ is a sleek and easy-to-use three-band equalizer that gives you awesome sound like all plug-ins from Tokyo Dawn Records. Preheat the audio wave by selecting the non-linear option in the Output Stage section. It will add subtle harmonic distortion and texture.
"This little guy sounds amazing." – Dave Pensado
Download: TDR Slick EQ
3. Ace Amp
Shattered Glass Audio's AceAmp is based on classic 50s tube amplifiers. The plugin has simple controls familiar to every musician. Very interesting working with vocals!
Download: AceAmp
4. Molot Compressor
This is a monster with character! It even looks like a Soviet vintage machine. Popular for its interesting coloring of sound, non-linear harmonic color, easy visual control.
Before work, we advise you to read the user manual for the correct settings and get maximum results!
Download: Molot
— See also: Steven Slate Drums – SSD5 —
5. Voxengo Tube Amp
TubeAmp Voxengo gives you a warm overdrive in the style of mic retro amplifiers. Often receives updates, which is undoubtedly a plus for a free tool. Use a low pass filter to simulate a better texture. The control parameters, like many similar plugins, are classic.
Download: TubeAmp
6. MJUC jr. Compressor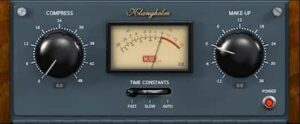 Klanghelm's MJUC is simple and elegant. Use it for smooth compression or a heavier pumping effect. Based on vintage compressors from the 1960s, it also looks authentic. Many tests show its versatility on various sound sources.
Download: MJUC jr
7. Softube Saturation Knob
This plugin is the best of the list. Dave Pensando often noted him in his videos, from where we got information about this free saturator. The most remarkable thing is its simple operation (just one button) and excellent sound quality.
Download: Softube