The master bus is the final channel that collects all the sounds of your project together. We can put any of the instruments on it and adjust the dynamics, frequencies or richly in general. We have selected five useful plug-ins that will undoubtedly improve the sound of the track. Of course, do not blindly use aggressive settings. In small proportions, you get great analogue shades!
Sonnox Oxford Inflator
Most of these plugins are unique in that they add something magical to your material when mixing music. Just put them on the master bus and experiment with the settings. Most often, this will be enough to understand how the tool will behave on one or another source.
Inflator is no exception, due to its colorful hue and algorithms assembled from an analog device. It makes the sound soft and mellow. This is not always 100% useful, but when the source code is extremely dry, it really will "collect" and "glue it" together.
— See also: 10 best vocal tuning plugins worth a try! —
SPL Vitalizer MK2-T
This plugin, in fact, is an emulation of analog equipment used by world mastering engineers. Despite the many useful functions, we most like the stereo expander, which competently and subtly performs its functions. When the mix does not have enough width when mastering, the vitalizer will solve this problem.
Cranesong Phoenix/Phoenix II
Despite the fact that this plugin is not popular enough and is not advertised, like products from other manufacturers, it has its own unique shade, which will make your mix softer and instantly improve it. This is a saturator with five analog tape presets. Fills the sound with harmonics and distortion, up to distorted reliefs.
— See also: Popular plugins from iZotope —
Dada Life Sausage Fattener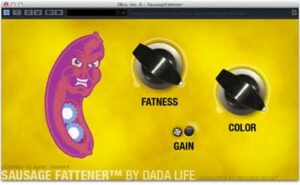 Sausage Fattener is one of the simplest plugins with an interesting interface and a minimal number of control knobs. We use this plugin only when processing electronic styles to compress dynamics. For live music, it is very "cruel" and most often distorts the material to a critical value.
This tool makes, roughly speaking, the track loud and sometimes even flat. Therefore, it should be used delicately.
PSP Vintage Warmer 2
This is one of three saturators from the PSP company. Each of them is incredibly versatile and useful. In fact, it is a saturator, equalizer and compressor in one instrument. As with all the above tools, the plugin allows you to saturate and increase the volume of the entire mix. Test, try and discover new tools to improve the quality of your sound!