Writing guitar parts in the DAW program was considered to be the Achilles heel of computer music, but now there is a huge set of tools and libraries for Kontakt, which are more than capable of doing this in a variety of styles. We have combined some of the best virtual guitars created so far.
10 best virtual guitar libraries for NI Kontakt 5
Chris Hein Guitars
This virtual guitar library offers a more diverse sound than most others. It presents more than 40,000 samples from nine types of guitars (three electric guitars, two jazz, on nylon and iron strings and a banjo). Composer Chris Hein has compiled 18 GB of high-quality sounds and articulations to offer a fantastic set of tunes for each guitar. There are manual controls, a harmonizer and a useful slide mode. Add some great effects and you get a lively sound!
Heavyocity Scoring Guitars 2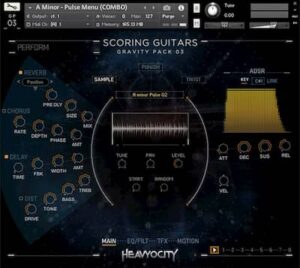 Scoring Guitars is one of the most unusual tools aimed at creating movie soundtracks. You will get something that Heavyocity is described as the "visceral energy" of the instrument. Preset sounds and textures lie inside the Gravity engine, so you can add effects, change envelopes, randomize and create sounds that go beyond the familiar world. Thus, distorted synthesis or new layers of space can be obtained from the guitars themselves.
Impact Soundworks Shreddage 2 IBZ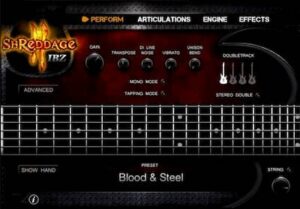 Described as "the legendary 7-string guitar for heavy metal." This is the main Impact Soundworks product for the Kontakt 5 sampler, which includes a virtual electric guitar and bass parts.
You will get many options to change the tone, set complex frets, hand sizes and equipment. There is even a special effects rack for flexibility and saturation. In fact, this is a full-fledged instrument with a character for rock!
Strummed Acoustic
For all acoustic solutions, Native Instruments recommend their own Strummed Acoustic product. It has almost all the sounds you can get from Dreadnought acoustics. Carefully disassembled and equipped with styles. There is an Auto Chord function that allows you to play chords with one finger, as well as many ready-made intros and endings for your songs.
Finally, you will get editing, effects, note notes and a fantastic rhythm search function for composing templates.
— See also: The best plugins for mastering music! —
Electric Sunburst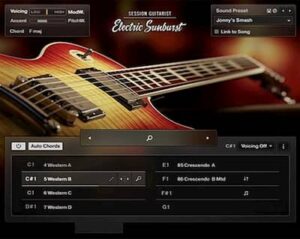 The new release from NI is the electro-version of Strummed Acoustic, with the same advanced engine and awesome Auto Chord feature. There are 16 GB of six-string guitar samples with loops and single notes with a wide range of frets.
You also get 154 patterns for a large number of realistic reefs, alternating intervals and arpeggios.
Electric Sunburst is also equipped with an excellent set of effects, so there are many possibilities for creating a wide range of warm electric tones.
Orange Tree Samples Evolution Electric Guitar Strawberry
Strawberry claims to allow keyboard composers to easily and quickly create authentic electric guitar parts without the need for basic guitar skills. There are a wide variety of pure tones, some of which use emulation preamps and cabinets. Simplicity is really surprising. Download one of many patterns or use automatic chords.
Sample Logic Cinematic Guitars Infinity
Before you get impressed by its decent price ($ 599), check out the great features of the Cinematic Guitars Infinity library. These are several products in one (with their own lotions and chips): three types of cinematic guitars and the Infinity component, which has all the content that extends to four instruments called Atmospheres, Instrumentals, Loops and Percussives. Create huge soundscapes by mixing up to eight sources of sound in four squares. The set includes advanced effects "3D Mixer" and more than 4750 instruments to choose from!
Sugar Bytes Guitarist
Sugar Bytes Guitarist focuses on rhythmic emulations played on three electric guitars: Stratocaster and Telecaster by Fender and Special Duesenberg Starplayer Special. There is a large library of presets for each, plus amplifier emulation, two effects and a processor. The central component is an easy-to-use sequencer for building the style and notes in which they are played. You can select chords from over 400 presets.
— See also: The 6 best VST synthesizers of 2017! —
Vir 2 Electri6ity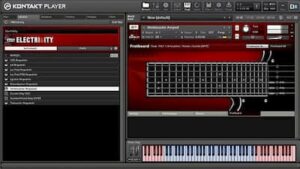 This is one of the most expensive guitar libraries for NI Kontakt 5. Electri6ity is a recreation of authentic tones of the eight most iconic instruments: ES335, L4, LesPaul, LesPaul P90, Dan Electro Lipstick, Rickenbacker, Stratocaster and Telecaster. Options include guitar tone and behavior. Without any "chips", Vir 2 takes one of the most honorable places among the emulations of the instrument.