We have analyzed current requests, reviews, expert recommendations, and summed up some results. Here are 6 of the best (but not new) synthesizers most often used by composers around the world!
1. LennarDigital Sylenth1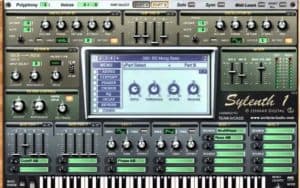 Essentially, you may ask, why is Sylenth1 so famous? It would seem (and it is), this is another virtual simple synthesizer with four oscillators, several channels and simple controls. We have seen many tools with relatively similar capabilities, most of which are free. So why exactly it?
The answer becomes clear after listening to a few seconds. Sylenth1 sounds overwhelming. This is a rich and simple synthesizer, for which there are thousands of free presets, the importance of which is higher than the plugin itself.
Today, Sylenth1 has become a Must Have instrument that adorns the collections of every contemporary composer. You can also change the look with free skins.
2. Spectrasonics Omnisphere 2

Spectrasonics Omnisphere 2 was positioned as a sophisticated professional plugin, but the functionality made it one of the best. Thanks to its gigantic library of sounds, you can create from aggressive layers to soft ones that ascend to heaven. Sales and demand for the synthesizer until today occupy the bar above new advertised plugins. There are many different updates to complement its appearance and internal library.
— See also: The best plugins for mastering music! —
3. Xfer Records Serum

Looking at the controls, it becomes obvious that Serum is striving to do nothing more than the most unique tool of its kind in the world. Oscillators sound cleaner and brighter than we used to hear in classic plugins. You can also import your own sounds to create custom wavetables.
We laid out ready-made new free presets that can be downloaded and used in our projects.
4. Native Instruments Massive

Native Instruments release a large number of products every year, including virtual instruments. Given that the company is famous, it does not abandon its old synthesizers, but continues to support and equip them with various utilities. Massive accompanies a gigantic library of transforming sounds and wave-like oscillators. In addition, it is designed in such a way that it will not be difficult to understand and compose your interesting sounds.
The main drawback is that among the 600 solutions, it will be difficult to find the right one and you will have to tune everything to your project, which requires at least basic synthesis knowledge.
5. Reveal Sound Spire 

Given that the plugin was created recently, it colorfully shows itself in the work that you can hear in the manufacturer's demo recordings. If in previous synthesizers the functionality is not complicated, then this one will have to be buried for some time to get fancy sounds and effects. Spire sounds amazing and is capable of creating everything from giant impudent harmonic tones to crystal clear tones.
— See also: The best VST plugins for vocals processing in 2018! —
6. Refx Nexus 2

We could not ignore this well-known giant. Nexus2 has been famous for a long time and serves as the main synthesizer for leering (giving a dense rich sound). Settings and effects can be changed using the built-in effects section, and the library of cans (collections of sounds) is updated annually and often given free of charge.
During this year, we tried and described many new synthesizers that are certainly worthy of attention. But no matter how modern they are, it is too early for them to compete with all the well-known and convenient combines. If you still have not tried them, download free demos or check out the recordings and you will understand what unique features you can use today!