If you are looking for ways to get away from the computer screen and start to feel music with your hands, consider these grooveboxes that allow you to quickly and efficiently create a bit.
Novation Circuit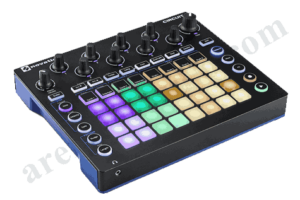 Making music is the beginning of your journey with endless possibilities. Use the Novation Circuit as your primary four-stroke sampler. The Flip Sample function allows you to make drum loops with instant effects. Combine your device with MIDI and synchronize with other drum machines using mini-jacks to easily control and add contours, opening up the world of analog filters and saturation.
Price, on average, from $ 450 per set.
— See also: Popular plugins from iZotope —
Korg Electribe 2
Korg Electribe is a productive machine that allows you to create bits with maximum speed. You can freely edit and reprogram the sound using waveforms, pre-loading their drum machine. Modulation and effects can be easily controlled by turning the knobs on the top panel. In addition, connection of various external interfaces is available, for recording rhythm, bass or melody. In Electribe 2, the loop and sample function was implemented, which will be a great addition to live performances. Bonus models with great sound potential are also provided.
Price: from $ 500
Elektron Digitakt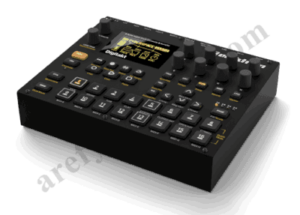 Initially, the device was not positioned as a groovebox, but it was very fond of musicians. This is a compact, durable and accurate friend in your studio! Elektron Digitakt is an aggressive drum machine with a powerful sound engine and advanced functionality. The device is designed for active use and is equipped with all new high-resolution sensors with durable illuminated buttons (designed for 50 million clicks). High-speed OLED-screen displays all changes and dynamics of the instrument.
Price: from $ 800
Teenage Engineering OP-1
The OP-1 is an all-in-one groovebox. It is a portable synthesizer, sampler and controller with additional features such as a built-in FM receiver and an assignable G-force sensor for effects. Its modular architecture provides endless possibilities of sound without making the process complicated and distracting from creativity. The compact design and the real physical interface make it inspiring to create music no matter how experienced you are. With ten built-in synthesizers, eight quality effects and lots of routable LFO filters, you will never run into a creative crisis. Try this little drum machine, and you will understand why it is chosen by so many reputable manufacturers and producers.
The price at distributors starts from $ 900
— See also: 7 drum kit plugins that will be useful to every producer —
Elektron Analog Four MKII
The company rebuilt the first version and created a new benchmark for the quality of desktop synthesizers. The resulting circuit allows you to twist a deep deep saturated bass, which is very valuable when writing dynamic compositions. Get durable buttons, a large monitor and minimal design. This drum machine will take one of the leading positions.
The second version of Analog Four MKII has several updates:
Redesigned analog circuits for deep bass
Improved analog overdrive distortion
Large, clear OLED screen for optimal feedback in low light
Durable backlit buttons
Increased number of highlighted buttons
Stereo outputs for each track
Expression / CV inputs for external parameter control
Premium die-cast aluminum housing
Price: from $ 1400
Akai Pro MPC Live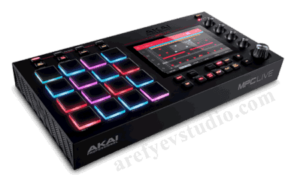 And of course, one of the most expensive cars from Akai Pro. This is a full-fledged independent workstation for creating bits and instrumentals using recorded materials or samples loaded into it. This is a universal solution for all composers. The groovebox is based on a beautiful full-color 7-inch screen, four Q-Link touch control capacities, a master channel knob and 16 sensitive paddings for stuffing. A large battery and 16 gigabytes of internal storage are available for you. Access to files can be provided using an SD card or an external drive connected via a USB output on the rear panel. Powering Live is MPC 2.0, the new Akai Professional update. In the second version, many improvements were introduced. Vault 2.0 comes with 10 gigabytes of samples from top-notch record companies.
Price: from $ 950