In 2016, many Kontakt sampler tools were released. We picked up some favorites that undoubtedly surprised. Developers continue to evolve and move on, beyond existing alternatives. If you are looking for orchestral libraries, incredible sound effects, emulations of vintage analog synthesizers – we have something to offer you!
1. Wave Alchemy Revolution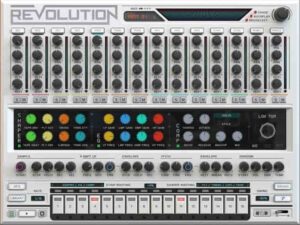 Imagine a library that contains the most legendary classic drum machines, such as: TR-909, 808, 606, 707, CR-78, Linndrum, Drumtraks, Drumulator, OB-DX and many others. This is a huge collection of 8GB in size, with over 41,000 samples from 14 drum machines. Very juicy, and most importantly – high-quality recorded sounds.
Price: £ 149.95 | Web site: Revolution
2. Sample Logic Cinematic Guitars Organic Atmospheres
It is more than a collection of sounds. A huge library with many cinematic tools. Contains more than 850 instrumental presets and 5GB samples.
CG Organic Atmospheres is a rather specific tool. If you are writing music for video screensavers and movies – you do not have the right to pass by.
This collection will certainly take pride of place in your tool library.
Price: $ 249 | Web site: CG Organic Atmospheres
— See also: New Presets for the Xfer Serum Synthesizer —
 3. Heavyocity Vocalise
We have not yet seen libraries for Kontakt that are visually designed as Vocalise from Heavyocity. Vocalise consists of 4GB of uncompressed audio, with the participation of vocalists (from the popular ones – Siobhan Magnus). In addition to complex presets, there are 120 pads and 16 deep cinematic instruments.
Vocalise is an amazing tool that many will enjoy. The workflow is very simple. Each time you think that you have found what you were looking for, new and new interesting sounds will open up for you.
Price: $ 100 | Web site: Vocalise
4. Umlaut Audio uBeat Bundle
If you write Hip-Hop, EDM, Trance, EBM, House or any other style that needs electronic drums – pay attention to this library. Despite the dubious name of the product, it is actually a powerful drum machine containing 3 great Kontakt sampler tools. These are really high-quality sounds with individual control of each track. You can quickly adjust the balance of any drum kit.
Price: $ 199 | Web site: uBEAT
5. Sculptor Live Impacts
Gothic instrument from the Dronar team. It weighs about 250 mb, and it is very compact in comparison with other libraries for Kontakt. These sounds were recorded by Alessandro Camnasio (a leading blockbuster sound designer who wrote music for films like Mad Max and Transformers). The instrument is very easy to use with massive sound and emphasis on interesting effects. Ideal for writing soundtracks for movies and games.
Price: £ 54.95
6. John Diamanti Fox Solo Clarinet
Great library with clarinet samples. Recorded by three microphones (at close, middle and long distance). High-quality recorded sounds allow you to register very realistic parts. Check out the demo recordings of the tool.
Price: 79 $ | Webpage: Solo Clarinet
7. Output Substance
Chic Hollywood Library with 300+ Bass Presets. These are unique and creative sound solutions that are suitable for both heavy styles and melodic dram-n-bass. The emphasis is on emulating analog synthesizers. The library has 5 GB of sounds. Look at this flexible and convenient interface, automating which you can get anything you want!
Price: $ 199 | Web site: Substance
8. Sam Spacey Epica Bass
Another bass writing library at a very attractive price. Only 132 dollars. How much would you pay to have a real analog synthesizer?
Manufacturers have done hard work on this library. It consists of 430 instruments and 26,657 presets. With all this, its size is only 5 GB. Once you install, you will receive five separate categories for any task. Inside, both processed sounds and completely raw waves. This is a fantastic library for writing bass, which, undoubtedly, should be in the collection of any modern composer.
Price: £ 89
9. Spitfire Audio Glass & Steel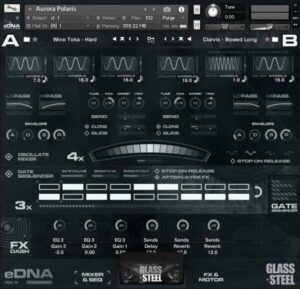 Spitfire Audio unveils fresh kit for NI Kontakt. Glass & Steel consists of over 3,000 carefully crafted sounds. The famous percussionist Paul Clarvis implemented the idea.
The library consists of unique tones that will interest manufacturers of modern techno, industrial, ambient and other atmospheric styles. The sample kits are split into Cinematic Rhythms, Cinematic Systems, Disturbed Morphs, and Hand Blown Pads, which also consist of separate instruments.
Price: £ 99 | Web site: Glass & Steel
10. Impact Soundworks Ventus Shakuhachi
The library is a product from Soundworks. This is a set of classic oriental instruments "Shakuhachi instrument". This library is based on a new technology called TACT (Tonal Articulation Control Technology), which allows you to generate authentic phrases from each instrument.
Price: $ 99 | Site: Ventus Shakuhachi