If you are looking for drums for Contact 5 sampler, then you have come to the right place. We have prepared a list of the best libraries with the highest quality sounds created by professionals in this industry.
Remember, to work with them, you need the full version of Native Instruments Kontakt 5 (but some of them work as a standalone VST plugin or standalone application). Libraries are not very cheap, and many of them exceed the sum of one hundred dollars, but you will see that they include sophisticated instruments and thousands of sounds that justify the cost.
STUDIO DRUMMER – Native Instruments
STUDIO DRUMMER is one of the best drum libraries to use with the Kontakt5 sampler. This base includes more than 3,300 authentic grooves recorded using 3 premium drum kits, such as the mother-of-pearl Maple, individually assembled Yamaha Maple and the Sonor SQ2 drum kit. Expect to get 17 GB of high-quality 24-bit samples.
Specifications:
Tools: 3 installations
Sampling Rate: 24 bit / 44.1 kHz
Size: 17 GB uncompressed material
Compatibility: Kontakt 5
Price: € 149
DAMAGE – Heavyocity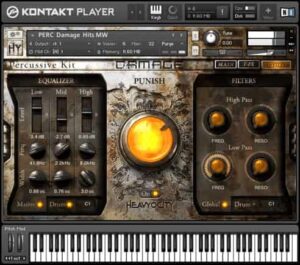 DAMAGE is another very sophisticated drum library for Kontakt. Heavyocity is known for its professional design. The collection includes over 26,000 samples. These are recorded live installations (not only classical, but also wooden and percussion objects). Here you will find cars, cranes, objects and other details.
Specifications:
Content: 26,500 samples
Sampling Rate: 24 bit / 44.1 kHz
Size: 30 GB of uncompressed material
Compatibility: Kontakt5
Autonomous work (VST, AU, AAX)
Price: $ 299
— See also: 10 free synthesizers in your collection —
APOCALYPSE – Soundiron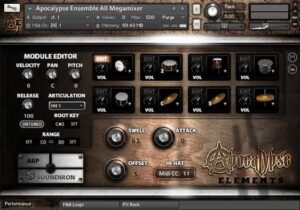 Are you ready for the Apocalypse? If you really need the harsh apocalyptic nature of drums and percussion, this library will give you all this! Apocalypse weighs 25 GB and includes 25,000 samples created in ensemble sections and solo instruments, including bass drums, toms, bongos, explosions, accidents and other dark textures.
Specifications:
Content: 25,171 reels
Sampling Rate: 24 bit / 48 kHz
Size: 24.8 GB
Compatibility: Kontakt 5 Player and higher
Price: $ 199
BLOQ – Sample Magic
BLOQ is an old synthesizer and virtual drum machine that includes patches for Ableton and Logic. In addition to the synthesis itself, it comes with a large collection of drum sounds from popular drum machines such as: Roland808, Roland909, Roland707, Roland606, Roland626, Roland68, SoundMaster SR55, NordDrum, Sequential Circuits Drumtraks, MXR185, Emu Drumulator, Akai MPC60 and Korg SuperDrums.
Features:
Content: 7600 samples
Size: 2.6 GB
Compatibility: Kontakt 5 or later
Price: $ 54
MATT HALPERN SIGNATURE – GetGoodDrums
For those who do not know who Matt Halpern is, it should be noted that this is the drummer of the Periphery band and the founder of The Entertainment Institute. One of the most awarded musicians (in 2013 received the "Metal Drummer" of the year in Modern Drummer Magazine). GetGood is Matt's best build in one instrument, including 792 drums, 586 snare drums and 174 samples of other sounds.
Features:
Sampling Rate: 24 bit / 44.1 kHz
Compatibility: Kontakt5 and above
Price: $ 99
DRUM FORGE I – Drum Forge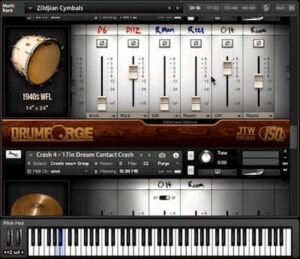 DRUMFORGE I- awarded the best collection, including rare drums from the 1940s to the present day. For example, you will find here recorded Adam Cargin / Williamson Street Drumworks in Madison, Wisconsin. They really sound great and are available in both processed and dry form.
Specifications:
Content: 25,171 samples
Size: 12 GB
Price: $ 279 (full version)
HYBRID DRUMS 8D8 – 8dio
8dio's HYBRID DRUMS 8D8 is another great library with 6 gigabytes of electronic drums. From EDM, Trap and Pop to Dubsptep and Minimal. The three-dimensional user interface is beautiful and easy to use. You can easily control and edit each sound using the functions Reverse, Randomizer, Speed Control and other effects.
Features:
Instruments: Modern Drum Kits
Sampling Rate: 24 bit / 44.1 kHz
Size: 6.4 GB uncompressed material
Compatibility: Kontakt5 +, VST, AU, AAX
Price: $ 299
CORE KIT – Vi-elements
Vi-elements CORE KIT is a Bontakt song collection featuring 30 instruments and over 20 GB samples. This can be a great product for your collection.
Specifications:
Size: 20+ GB.
Compatibility: Kontakt5 +
Price: $ 99
— See also: The best VST plugins for vocals processing —
MAD – HandHeldSound
HandHeldSound MAD is another huge library of realistic drums. Each sample is recorded in a different room and correctly formed for beautiful leering. Thanks to layering, you get a dense live sound. The MAD tool is suitable for Indie Rock / Punk and Funk styles. Compared to the above products, MAD seems more affordable and will be a good alternative for making music.
Features:
Tools: Remo Custom Funk Kit, Yamaha Stage Custom, DW Kit
Price: $ 79
SULTAN DRUMS – Sonokinetic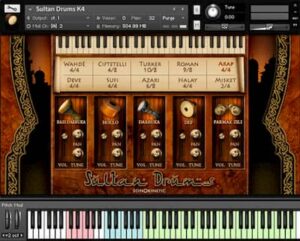 Sultan Drums is a great instrument with oriental percussion and some ethnic sounds recorded by Turker Kolak using such instruments as Asma Davul, Bass Darbuka, Bandir, Erban, Hollo, Kabuk, Shaker, and others. If you want to revitalize and give a twist to your creativity, then Sultan Drums is exactly what you need.
Specifications:
Instruments: Oriental Instruments (mentioned above)
Sampling frequency: 44.1 kHz, 24 bit, AIFF format
Size: 1.3 GB
Price: € 99.90
In the modern world, recording live percussion instruments is not always practical and profitable. Often musicians expect such a sound, which can only be obtained using the libraries for the sampler.