It has been a long time since we looked at the free software market, so we decided to see what was new and what stood the test of time. Some of these tools were released as prototypes or were early developer experiments.
Free products, in fact, are not always completely free. It often turns out that this is only a "demo version". In other cases, such software is a ploy to collect emails and further send out calls to purchase libraries, samples, add-ons, etc. Listed below are some surprisingly sounding random instruments that are truly accessible to everyone.
1. TyrellN6 by u-he
A virtual analogue with classical architecture, plus additions.
Two generators: noise, ring modulator.
Two LFOs with eight waveforms that synchronize with the host.
Authentic Overload Audio Source Mixer with Feedback Filter.
Double filter related to Diva (early model).
Unison up to eight voices.
Envelopes ADSR analog type.
Chorus effect with three modes.
MIDI for hardware control.
Changeable interface from 70% to 200%.
Over 580 factory settings.
This thing is damn responsive and sounds cute! It is hard to believe that it comes for free.
Website u-he.
2. Dexed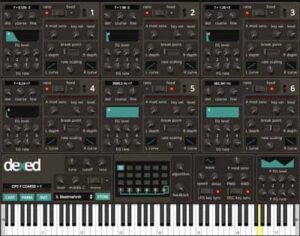 Dexed is an emulation of the classic Yamaha DX7 FM synthesizer. The interface is a little cluttered than aesthetically pleasing, but for those who want to delve into it, there are tons of sound possibilities.
From the Github page:
"Dexed is a multi-platform, multi-format synthesizer plugin that is very similar to the Yamaha DX7. Dexed is also the MIDI cartridge manager for the DX7. Do not expect this to be a perfect clone, since it will take years in the open source world and several co-authors … Since Dexed is modeled on DX7, the Yamaha DX7 manual can be used as reference documentation. "
Website Dexed – FM Plugin Synth.
3. MiniSpillage
MiniSpillage is a professional-grade free plug-in for synthesizing percussion instruments with 64-bit DSP processing with high resolution. It includes three exclusive algorithms, as well as distortion effects and resonant filters.
Bass Drum – bass drum synthesizer with one oscillator with pitch control, internal FM and harmonic control.
Wood Drum – A flexible wooden drum model synthesizes natural and synthetic tones from logs to toms.
Hi-Hat – Six indoor and outdoor Hi-Hat generators with noise source and dual resonance filters.
4. Lokomotiv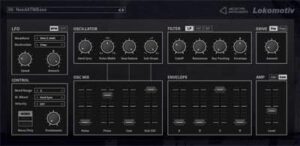 Lokomotiv is an analog retro synthesizer, impressive from the first launch. Its rigorous interface is surprisingly responsive and immediately sounds great.
Oscillator:
A mathematically generated high-resolution generator without using a wave table or interpolation.
Silky smooth 9X frustrated sawtooth wave.
The shape of a morphing sub-generator.
Filter:
MG multi-mode filter for stair modeling with Zero Delay Feedback technology.
Routable Drive Filter (Pre / Post).
Modulator:
Envelope generator made from natural ADSR.
A one-time LFO that can be used as an envelope.
Specification:
1X OSC (saw + pulse) + one auxiliary OSC, noise generator.
1X multi-mode filter with drive.
1X LFO, 1X Envelope Generator.
Eight polyphonic voices, Mono and Legato mode supported.
64 factory settings.
Supported native 64-bit Mac and Windows.
Website Lokomotiv (plugin distribution is closed).
5. Digits from Extent of the Jam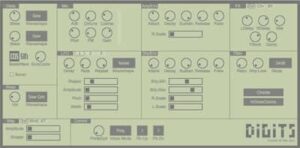 This is a sports palette with a muffled growl, predefined chords and copper sounds. It crackles a little when the parameters change, but it's worth the time and you can get great results. Do not pay attention to the constrained design, it does not affect the functionality in any way.
Website Digits from Extent of the Jam.
— See also: best plugins for vocals processing —
6. Spitfire Audio – LABS
Spitfire Audio recently released a series of completely free tools called LABS. These are simple sampled plugins with few controls. So far, the collection includes:
Charango
Electric Piano
Amplified Electric Cello Quartet
Drums
Strings
Soft Piano
If you've previously used any of the Spitfire libraries, then you know how well they are written. These tools are no exception. Despite the fact that you do not get the flexibility or deep selection of a fully functional library, there will be great sound that can be slightly changed to taste.
Website Spitfire Audio LABS.
7. TAL NoiseMaker
The interface is accessible, clean and accurate, and thick, loud sounds are possible from the start. TAL NoiseMaker is an improved version of TALElek7ro and has a new synthesizer engine with many improvements in sound. The synthesizer also has a small section of effects with reverb, chorus and a simple effect of crushing bits. The display shows the values ​​of the knob and slider. A ring modulator and a synchronized triangle are also part of this synthesizer.
TALNoiseMaker includes new types of filters and a self-resonant low-pass filter and a 6 dB notch filter. Its advanced ADSR amplitude is suitable for slow pads and really fast envelopes. 128 factory presets, 80 of which are made by Frank "Xenox" Neumann.
Website TALNoiseMaker.
8. Thump by Metric Halo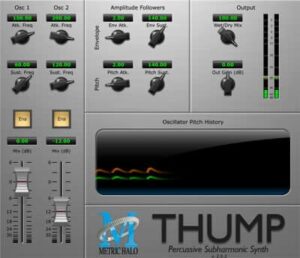 Thump is a unique audio processor that allows you to synthesize low-frequency sound to add it to a track or completely line up your bass line. Thump looks at the pitch and dynamics of its audio input and uses this information to control its oscillators. You can add low frequencies to the drums, boost / tighten the bass, or even create synthetic drones. It is ideal for compaction and lehring.
NOTE: the instrument requires a transient to be activated, so you should use it as an insert and not as a separate synthesizer.
Website Thump by Metric Halo.
9. Synth 1 by Daichi Laboratory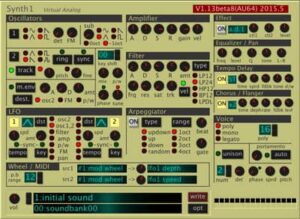 While the interface is a little nasty and pixelated, Ichiro Toda's Synth1 is modeled after Nord Lead 2 Red Synth and sounds pretty good. Getting a few useful sounds will not take long, and the built-in arpeggiator is great for experimenting.
— See also: best plug-ins for fixing phase problems —
10. PG-8X by Martin Lüder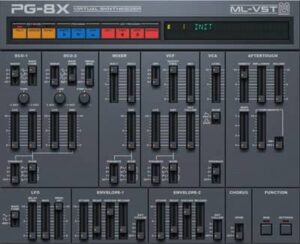 "The PG-8X is a virtual synthesizer inspired by the Roland JX-8P with the PG-800 programmer. The synthesizer architecture is a standard 2nd oscillator -> Filter -> VCA design. These elements can be modulated by a common LFO and one of two envelopes. The PG-8X is compatible with the JX-8P and can read and write Syxx JX-8P data. "
Website PG-8X by Martin Lüder.
Although these tools may not be the best things in life, they are free. Experiments and research bring untold benefits to adventure lovers, and free software is a great place to start your journey or a way to distract yourself, at least temporarily, from financial difficulties.