Some people say that mastering for vinyl is not necessary at all. The fact that the mixed track will sound equally good both on CD and vinyl. There are no single solutions and settings for all files, and today we will figure it out.
In our opinion, it is not necessary to perform special mastering for vinyl, but finalization and some subtleties of conversion should be taken into account. According to the statistics of The Guardian newspaper, vinyl sales in 2016 reached a 25-year high and there is no reason to reduce these statistics. The knowledge of processing a vinyl track has again become vital. Consider the main features of preparing the track for the transition to vinyl.
Frequencies
It is preferable to make a smooth cut-off filter between 16 kHz and 18 kHz. Any sound over 20 kHz on vinyl is converted to noise and distortion. This is due to overheating of the cutting head caused by high frequencies. Frequencies below 30 Hz are virtually inaudible and may cause the needle to exit the groove during playback. As a result, it can jump to other channels and go astray. Anything below 30 Hz and above 16-18 kHz must be delicately cut.
— See also: Free Auto-tune VST Plugins —
De-essing
Eliminate sibilants from vocals as much as possible. They are between 5 kHz and 9 kHz. Any whistling on vinyl sounds exaggerated and harsh than digitally. This is due to the increase in high frequencies.
Volume
The track should not have peaks higher than about -12 dB. To achieve this, you can adjust the limiter level. Some mastering engineers do not even use a limiter in their work if pruning does not occur. The cutting needle does not respond well to perceived volume caused by the minimum dynamic range. This may cause the sound to be quieter.
Stereo bus
Everything below 100 Hz should be in mono. The region between 100 Hz and 500 Hz should be narrowed almost to a mono state. You can use special analyzers to achieve this and signal analysis. The width of stereo sound often increases at low and medium frequencies, which can lead to an increase in the phase on vinyl.
— See also: 12 best transients shapers to add punch —
Track duration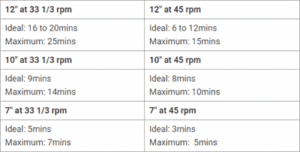 Here is the minimum and maximum length for vinyl.
It is important to remember that the following will affect the recording time:
the presence of additional frequencies
volume level
stereo width in low and low mid frequencies
Applied audio mastering techniques for vinyl play a key role in the preparation. However, keep in mind that the disk slicing system and the engineer performing this work still matter. If you have any difficulties, you can order mastering in our studio and you will get the best professional sound!