Analog warmth is the holy grail that most audio engineers have been chasing ever since tape began to disappear in the late 1990s. This is the mythical sound embodied in legendary albums such as Sgt. Pepper's Lonely Hearts Club Band by The Beatles, The Dark Side of the Moon, and Led Zeppelin IV. Pleasant overdriven audio, transformer coloration, exquisite analog tape compression are intangible qualities that are so lacking in today's digital world.

Looking for that legendary sonic shade? Will buying an analog tape be the solution to this problem?
Perhaps even if you find a working Studer A800 2-inch 24-track tape recorder, there are many factors to consider, in addition to financial costs. For example, these machines contain dozens of moving parts, many of which are known for their temperament, so you will need to find a service engineer. Do you know how to set up a multitrack recorder? Do you have the tools to set the correct azimuth? If not, you need to pay someone to do it. In addition, high quality analog tape formulations are scarce and expensive. In addition to analog tape, many of your favorite classic albums are based on the microphones, consoles, and analog outboards that were used to record them. But you don't have to buy a $100,000 console to get that sound. All you need is a high quality analog interface.
— See also: Acustica Audio Jet: Hybrid 2 Band Dynamic EQ – Basic Version Free! —
The first ingredient in creating a great-sounding analog interface is a microphone. After all, this is what captures the sounds you record. The large diaphragm condenser is the centerpiece of virtually every recording studio. Prices range widely, from inexpensive but impressive offerings like the sE Electronics sE2300 and RODE NT1-A, to the inexpensive Mojave Audio MA-200 and Telefunken CU-29 Copperhead, and high-end microphones like the Neumann M 149 and Bock Audio 251.
Once you find the right microphone, what's next?
You need a channel strip. Why pay huge amounts of money for an entire console when you're only recording one or a few tracks at a time? The Warm Audio WA73-EQ, Chameleon Labs 7603 and Vintech X73 are great ways to give your projects that classic British console sound. You can also get the Shelford Channel from Rupert Neve Designs if you're looking for true Neve sound character. Or maybe you are a fan of SSL products? Solid State Logic XLogic Alpha Channel is a great choice. Whatever console sound you're looking for, chances are there already exists a separate outboard channel strip that delivers it. Buying several channel strips will cost much less than buying the entire console.
Want a great cost-effective way to create your own channel strip? Consider a 500 series rack. All in all, these racks allow you to create your own bands with select preamps, EQs and compressors from leading professional audio companies such as API, BAE, Rupert Neve Designs, Chandler Limited, dbx, Focusrite and many more.
Analog interface emulation with simulation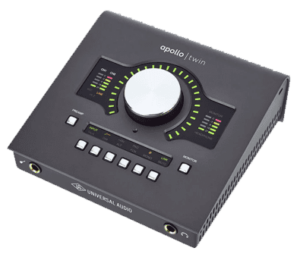 Just a few years ago, if you asked if digital emulation could replace a high-quality analog interface, the answer would be a resounding no. However, this is no longer the case today. Cutting-edge technologies such as Universal Audio's Unison preamps for Apollo X interfaces go well beyond traditional software modeling. The impressive technology actually adjusts the preamp circuitry, impedance and analog gain structure to reproduce the sound of a range of analog consoles. You can also add point emulations of an endless selection of EQs and compressors to your virtual interface.
Want an entire closet full of coveted, high-quality microphones? Digital modeling can do this too, and for much less money than buying a set of real models. The Slate Digital VMS virtual microphone system combines an extremely transparent microphone with simulation software that provides you with a realistic emulation of a world-class microphone cabinet and preamp collection. Townsend Labs Sphere L22 is a simulation system that not only emulates different microphones, but also allows you to change microphone selections and polar patterns after recording is complete.
There is something magical about what analog parts like transistors, photocells, capacitors and transformers do to audio – they are fundamental components in most classical recordings. That's why, even if you're working in a DAW, adding a few key analog outboards can add personality to your mixes.
Analog EQs, compressors and limiters

Compression (compression) is one of the most commonly used tools of mixing engineers. There are many models to choose from, but some classics are staples in the recording studio. The Universal Audio LA-2A electro-optical compressor and its attractively priced descendants like the Warm Audio WA-2A and Klark Teknik KT-2A are the engineer's secret weapon for vocals, bass, drums, guitars – just about everything else. Do you want something more interesting? Consider the Universal Audio 1176LN universal limiter/compressor or its equivalents: Purple Audio MC77, Warm Audio WA76 and Klark Teknik 1176-KT. Another proven studio feature is the Empirical Labs EL8 Distressor – it can subtly color a track with harmonic distortion, gently flatten vocals with opto-style dynamics processing, or add punch to drums.
Another studio standard is the Pultec EQP-1A equalizer. If any piece of equipment can be considered magical, it is a Pultec product. You can pass a signal through it with the controls set to zero – and there will still be an effect on the signal and its immediate saturation. Its curves are unlike other equalizers. It has inspired many other clone companies such as Tube-Tech PE 1C, Manley Enhanced Pultec EQ, WesAudio LC-EQP and Retro Instruments 2A3. And for a limited budget, there are Warm Audio EQP-WA and Klark Teknik EQP-KT.
— See also: 3 Best Electronic Music Creation Software in 2022 —
One of the best places to install outboard equipment is in your bus channel. Even if you rely solely on plug-ins, running an entire mix through high-quality analog equipment can really give it that classic studio shine. You can really enhance your mixes with a compressor like Solid State Logic Fusion. The TK Audio BC1-S is a great, less expensive way to glue your track together. The Rupert Neve Designs Portico II MBP and the cheaper Heritage Audio Successor provide a classic British touch. The Manley Variable Mu is a mainstay in ultra-high-end studios – pairing it with the Manley Massive passive EQ is the solution for a clean and expensive mix.
Using VST Modeling Plugins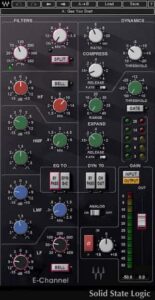 One disadvantage of analog equipment is that it is expensive. Let's take a look at plugins that let you get the same sonic performance as their hardware equivalents for a lot less money.
A collection of classics from Waves, including Waves CLA compressors and JJP Analog Legends, is a great start. It contains SSL, API and Neve, along with presets from well-known engineers. The Slate Digital VMR 2.0 Bundle gives you access to virtually every classic piece of hardware you can think of in a convenient channel strip format. However, the king of analog-modeled plug-ins is Universal Audio. Their UAD-2 platform provides DSP-accelerated analog simulation that is remarkably close to real hardware. For less than $5,000, you'll have over 100 of the best examples on the market at your disposal. Buying so much analog equipment would be crazy!
Adding a Reduced (Small Size) Analog Console to a Recording Studio
Despite the fact that everyone works inside a DAW program, many professional studios still use an analog console when mixing, thereby imposing an analog console sound stamp on their mixes. But unless it's a high-end studio, $100,000 vintage consoles aren't usually used. Instead, smaller consoles such as The Box API, Trident 78, Audient ASP4816 or Solid State Logic Matrix2 are used. They all cost less than $25,000, which is certainly expensive, but much more affordable than their larger brethren. These analog boards not only provide the elusive mixed sound on the console, but also contain features geared towards today's digital workflows, such as DAW integration and monitor control, while eschewing the redundant, irrelevant, or unnecessary features of larger consoles.
Analog sound summing
If you want your projects to sound like they were mixed on a world class analog console but don't need a full expensive console, an analog summing mixer like Dangerous Music D-BOX+, Dangerous Music 2-BUS+, Phoenix Audio Nicerizer 16 Mk2, Burl Audio B32 Vancouver, Rupert Neve Designs 5059 Satellite, or Solid State Logic Sigma will help you achieve the sound you want. These devices take individual tracks of your mix, sum them to a stereo track in the analog domain, and then stream the final stereo mix back to your computer.
Getting console sound inside a DAW program
Analog summing mixers are expensive. If they are out of your price range, there are other options. Plugins like Slate Digital VCC Virtual Console Collection and Waves NLS Nonlinear Summer will give you almost the same experience. For Pro Tools/Ultimate, Avid HEAT users can add magic within the program.
Order high-quality mixing and mastering without investing in expensive equipment
The cost of mixing and mastering may be beyond the reach of a young artist, but it includes time, engineer experience and technical specifications. You can buy an expensive console, but never use all its features. Today, it is much more affordable to order audio mixing and mastering services completely online and get a high-quality result. We always listen to the opinion of the client and do our best to get the best result!