Choosing the right audio workstation (DAW software) is one of the most important choices a music producer can make. A DAW, or Digital Audio Workstation, is a computer application that allows you to create, edit, record, mix, and master music.
Today we will look at three programs for the production of electronic music:
Ableton Live 11
FL Studio
Logic Pro X
Ableton Live 11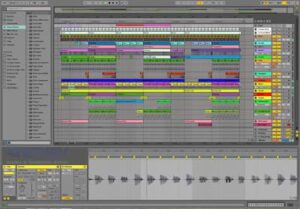 Ableton Live 11 is the best electronic music creation software in 2022 in our opinion. It stands out from other products with its smart and fast workflow. The program was first released on October 30, 2001 and includes all the tools for producing, recording, mixing and mastering music. Ableton supports all the standard features such as tempo control, MIDI playback, file, sample and plug-in selection, processing chaining, and also contains a whole range of unique tools.
Ableton offers two interfaces: for creating an arrangement and a clean project for working with sound. The interface for creating an arrangement contains audio and MIDI tracks on the right side, as well as knobs for controlling volume, panning, switching the selected track on and off, a record button, etc. You can group tracks together and route them among themselves. The second interface is suitable for live performances, DJing, and DIY sound.
Ableton Live comes in three different price tiers: $109 Intro, $519 Standard, and $859 Live 11 Suite. For creating electronic music, this program is chosen by such artists: Flume, Diplo, Deadmau5, Skrillex, Marshmello, DJ Snake, The Chainsmokers and many others.
— See also: iZotope released Neutron 4 – what's new and where to download? —
FL Studio
FL Studio, formerly known as Fruity Loops, is a digital audio workstation created by Image-Line. It was designed by Didier Dambrin in 1997 as a 4-channel MIDI drum machine, but over the years Dombrin turned it into a popular and sophisticated digital station, later renaming it FL Studio (in 2003) after threatening legal action from Kellogg's, a baby cereal company. called "Fruity Loops").
FL Studio is known for its simplicity, usability and affordability. It works on both Windows and macOS and also has a phone app called FL Studio Mobile. There are 4 editions available: Fruity Edition, Producer Edition, Signature Bundle and All Plugins Edition, priced at $99, $199, $299 and $499 respectively.
— See also: Antares showed a new dynamic equalizer for vocals Auto-Tune Vocal EQ —
Logic Pro X
Logic Pro X is an audio station developed by Logic that runs exclusively on macOS and is the second most popular DAW software after Ableton Live.
Initially designed as a MIDI sequencer for the Atari ST platform in 1987, Logic Pro X evolved over time on various technology platforms until it was purchased by Apple in 2002. The developers have gradually improved the Logic software, but unlike Ableton Live, Logic has focused for most of its career on being a complete DAW program for producers and musicians. Logic Pro X only has one standard version for $199 and a 90-day free trial.
The mixer supports up to 1000 stereo audio channels, up to 1000 auxiliary channels, up to 256 busses, up to 1000 external MIDI tracks, 15 plug-in modules, 8 modules for MIDI plug-ins and Audio Units, 12 sends per channel, 32 groups for audio, software instruments or MIDI channel lines.
Logic Pro X is used by artists such as Calvin Harris, Disclosure, Kygo, Swedish House Mafia, Hardwell and Alesso, among many other electronic music producers.