We continue the annual review of the most popular and best-selling sound cards for mixing, mastering and composing music. Choose the best PC and Mac interfaces with Thunderbolt and USB-C support.
How to determine for yourself which card to choose in 2019 for studio or home use? Products have different characteristics and equipment, which may be the best choice for one person and not the best for another. It all depends on the needs and financial capabilities.
First, decide for yourself how many inputs and outputs you need to work. If the task is to accumulate several instruments (for example: record two guitars, a piano and a vocalist at the same time), then 4 or more inputs will be optimal. If you plan to record each instrument individually, then look at the minimum quantity and reasonable price.
If you are a DJ, then you will need an audio interface that allows you to play the track in headphones while the main mix sounds on different acoustics. Also consider the possibility of connecting MIDI (synthesizers and controllers) to a computer via USB or directly.
The presence of DSP processing inside the interface will be important, which will allow the use of special plug-ins, bypassing the computer processor load. Universal Audio is the undisputed king of this market, but there are other options.
The form factor will determine whether you can take the device on the road, or it will only be used in a recording studio. Some are designed for desktop use, while others can be rack mounted. You can get an acceptable card for less than $ 200, but if you add a little more, you will see better quality, performance and specifications.
Let's review the old maps and new music market:
1. Audient iD4
Our recommendation remains unchanged from the previous year – this is Audient iD4. The initial price is $ 199, connects via USB-2 and plays 24-bit / 96 kHz. For such little money, you get 2 analog inputs and two analog outputs. This is excellent value for money with a productive amplifier and good design. Perhaps this is the best card that can be purchased in the region of $ 200. In addition, there is a main output (rear) for monitors and two headphone outputs.
— See also: The 7 best multiband compressors in the world —
2. Native Instruments Komplete Audio 2
Ultra-compact design and stylish shape. No scaling on the controls. Komplete Audio 2 is a dual input and dual output design. Starting price – $ 139, USB-2 connection and 24-bit / 192kHz playback. There is no digital communication and MIDI outputs. The main output level is controlled by the large knob on the top panel. Here you will also find input, phantom and USB indicators. On the back, you'll find a USB B connector, a pair of balanced TRS jacks, and a Kensington Security slot. The performance of Komplete Audio 2 is as pleasant as its appearance, and despite the basic functions, the sound card does its job perfectly.
3. Mackie Onyx Producer 2.2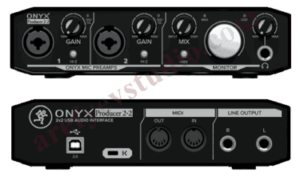 Thanks to Onyx high-quality microphone amplifiers, balanced analog connection and 24-bit / 192 kHz operation, Onyx Producer bus-powered is more than capable of receiving clean recordings inside your DAW program. There are two identical mic / line inputs with combined XLR / Jack connectors. Each of them has a manual switch with green backlight for selecting a Hi-Z instrument and a global 48 V phantom power switch. Input signals can be controlled using the Input / DAW Mix knob, and on the front panel there is a large Monitor knob and headphone output with a level knob . Including a metal case – this card will work for years. Includes Tracktion T7. Starting price is $ 160.
4. Focusrite Clarett 4Pre USB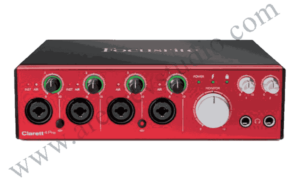 With a starting price of $ 600, the Focusrite Clarett 4Pre USB Sound Card is an excellent home studio work interface. Connections available: USB 2 and Thunderbolt. Audio Resolution: 24-bit / 192 kHz. 8 analog inputs and 4 analog outputs with MIDI support – make it optimal in this price category. A couple of years ago, Focusrite Clarett's original interfaces introduced high-quality microphone amplifiers, ISA transformer microphone pre-mode (Air) and ultra-low latency. A great one-stop solution for a wider audience.
5. IK Multimedia iRig Pro Duo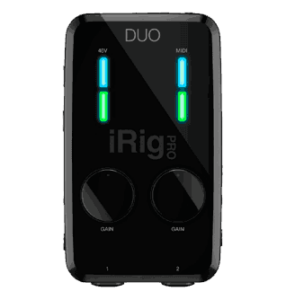 It is a portable power station with the ability to connect USB 2.0, Lightning and USB OTG. For $ 199 you get 24-bit / 48 kHz playback, midi, two analog inputs and outputs. This sound card is completely autonomous and can work with mobile devices. Record two channels at the same time even when the battery level is low. IRig Pro Pro Duo is the best mobile audio interface from IK Multimedia. The device comes with many cables for connecting to your chosen devices, including MIDI cables. One thing we noticed was that as the batteries ran out of power, the device became less stable. This is a minor nuisance, but if you are away from home, be sure to bring the charging cords with you.
— See also: The 10 best cheap MIDI keyboards of 2019 —
6. Arturia AudioFuse
Great sound and stylish design. Other interfaces with similar I / O levels are available at a significantly lower cost. AudioFuse is an attractive and portable Mac, PC, and iOS-compatible interface with many features. Despite its compact design, there are many connectivity options. Along the front edge you will find combo inputs and two completely independent headphone outputs. In turn, they can accommodate both a mini-jack and 1/4-inch forks. On the rear panel are two-pair monitor outputs, line level connectors, MIDI In / Out, S / PDIF and ADAT ports.
7. Universal Audio UAD Apollo Twin MkII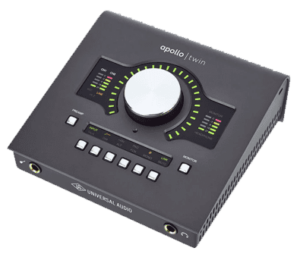 Universal Audio holds its position year after year. The sound card displays incredible sound quality, real-time monitoring and through their UnisonSuperb UAD-2 plug-ins. Apollo Twin MkII is presented in a desktop format and supports playback in 24bit / 192kHz. A big minus is the lack of equipment (namely, the Thunderbolt cable, which today is not easy to find in stores). The card is also a DSP block for enabling UAD plugins (you can choose the number of built-in cores on which its final cost depends) and is equipped with Unison conversion amplifiers. This allows you to gradually expand a subset of the classic UA hardware emulation plug-ins. Prices for a card start from $ 699, for individual plugins – from $ 90 per unit and from $ 300 per set.
8. AntelopeAudio ZenTour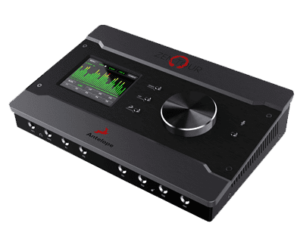 Much has already been said about the map, but we will repeat the key points. This is a portable audio interface that guitarists will love. Starting price is $ 1499. Connect via USB2 and Thunderbolt. Audio Resolution: 24-bit / 192 kHz. 8 analog inputs and outputs. DSP FX processing without delay. The company is not inclined to save on the quality of its products and Zen Tour is no exception. The card has a useful touch screen with access to all functions of the device, as well as to those elements such as amplification of the input signal, headphones, re-amplification of the outputs on all sockets. At the rear are four dual XLR / 1/4-inch inputs, two pairs of monitor outputs. On the left side are two pairs of ADAT inputs and outputs. You also get a large selection of DSP equalizers, amplifiers and one compressor. If you want a high-quality audio interface for studios, rehearsals and concerts – this will be a sure choice.
— See also: The 10 most popular VST plugins of 2018 —
9. Steinberg AXR4
Steinberg offers a true alternative among high-quality interfaces. At an initial price of $ 2,800, the buyer will get a connection via Thunderbolt 2, 32-bit / 384 kHz operation, 28 analog inputs, 24 analog outputs, ADAT, S / PDIF, AES / EBU I / O and MIDI. As with UA products, this card comes without a Thunderbolt cable (which is very strange considering the cost). The front panel configuration does not require much configuration effort. It is a rack mount device designed for professional engineers and recording studios. Provides direct monitoring and DSP effects without delay with great flexibility in audio routing. Up front, you'll find four Neutrik combo inputs and two headphone outputs, while the rear panel houses eight TRS line inputs, eight TRS line outputs, and two sets of ADAT I / O duplicating S / PDIF. The second pair provides an alternate AES / EBU Sub-D connector. MIDI I / O is located next to the Word Clock, while two Thunderbolt2 ports provide computer connectivity and serial connectivity for up to three interfaces. Four hybrid microphone amplifiers benefit from Rupert Neve Designs' advanced transformer and SILK circuitry, while DSP effects include a VCM 276 compressor, VCM EQ601, Sweet Spot Morphing Channel band, and REV-X reverb. A confident rival has appeared in the arena of the professional music market.
10. PrismSound Atlas 
Fantastic quality at the level of world recording studios. Full software management, high extensibility and intended for industry professionals only. Prism Sound quickly gained a reputation as the best choice for impeccable audio experience. This is a 2U USB interface with many I / O capabilities and an optional MDIO port, which provides additional interface capabilities. The rear panel shows the internal pairing capabilities that Atlas offers with the eight coveted Prism Sound amplifiers. You will also find digital inputs with supported formats, including S / PDIF and ADAT, which means that Atlas is capable of recording up to 18 channels simultaneously at frequencies up to 192 kHz. Atlas is a luxurious interface offering unprecedented sound quality. The cost of this sound card is $ 4800.