In this short review, we will focus on sub bass, which is important in styles such as deep house, dubstep, drum & bass and many others. Some engineers resort to tricks, saturating the bass with an EQ and saturator, but today there are combination instruments from Waves, which less load your projects and the work computer in general. As before, we'll go through each of these four plugins, from cheapest to most expensive.
Warning: Extremely overblown bass can upset your neighbors.
Waves LoAIR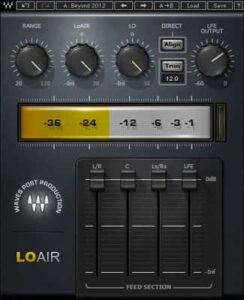 LoAIR is a powerful plugin that produces low-frequency bass in content where there isn't enough of it. It produces subharmonics below the fundamental. The other plugins we highlight in this series are different from LoAIR as they can create opposite harmonics above the baseline.
Basic LoAIR controls:
Range: Use to define subharmonics.
LOAIR: for adjusting the subharmonic level. Can be increased up to 30 dB.
LO: Use to add richness to the subharmonic sound.
DIRECT: for monitoring dry / processed signal.
Currently on sale with a discount of $ 29.
More details on the official website: Waves.
Waves RBass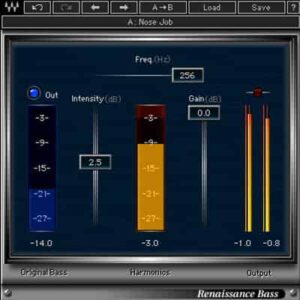 RBass is also an incredibly easy plugin to use, but it's different from LoAIR. RBass expands the perceived bass by creating harmonics above the core of existing bass content (i.e. saturating the source).
Control:
FREQ: Think of it as a crossover. Anything below this point will be processed by harmonics.
INTENSITY: Use to add the perceived loudness of newly created harmonics.
GAIN: Use to return the output level.
Renaissance Bass delivers deeper low frequencies that sound great on any speaker. Using patented psychoacoustic technology, it makes bass-boosting easy with simple and intuitive controls. Price: $ 79 (with a discount – $ 29).
— See also: How to record your guitar in a line so you don't feel ashamed? —
More details: Renaissance Bass.
Waves MaxxBass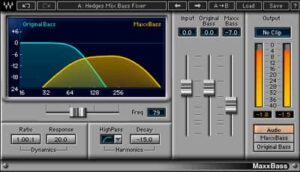 MaxxBass provides similar results to RBass and offers advanced controls and a more visual user experience. The blue section refers to the original bass sound, and the yellow section refers to the high harmonics created from the original bass sound. The combination of frequency and MaxxBass level will allow you to quickly pick up the ideal amount of perceived bottom footing.
Price: 99 $. More details: MaxxBass.
Submarine
Submarine is Waves' latest bass boosting plugin. Ideal for generating synthesized bass on tracks with little or no bass. Two sub-generators are offered here: one to generate one octave below the desired tone, the other two octaves below.
— See also: Why don't most rock bands use keyboard bass? —
Add deeper bass powered by Waves Organic ReSynthesis technology. To really feel the music, you need beats, bass lines and tight mixes to get the much anticipated result strongly. However, many producers struggle to create huge sub-bass content that stays crystal clear on large sound systems, without dirt, artifacts, or unnecessary rumble.
Price: 89 $. More details: Submarine.