It's been 4 years since our last review on reverbs! We summarized the knowledge gained, new releases for all this time and allocated free spatial effects for working in the studio. Each of these plugins can be tested for free in any DAW program, be it Ableton Live, Fl Studio, Cubase or Logic PRO.
The 18 best vst reverbs of 2020!
KUSH AUDIO GOLDPLATE

This is the best reverb from hardware and software manufacturer Kush Audio. They convince users over and over to choose their plugins with their high-quality designs and ease of use. Relab specialists worked together at the Goldplate Plate Hall, and the result of their work sounds great. You can hear quite small and medium rooms that can be made larger or smaller with the built-in width control. There is also a built-in filter and even a compressor unit for amplifying sound. Another plus is the integrated drive controller, which produces warm saturated colors. Unfortunately, an Ilok key is required to use, but you can download it for free for testing already on the official website. A full license will be $ 199.
SOUNDTOYS LITTLE PLATE

SOUNDTOYS are known for their legendary tools such as Decapitator and EchoBoy. The VST plugin LITTLE PLATE became the winner at the 34th NAMM TEC exhibition and received the best comments from world engineers. More recently, it was handed out for free, but at the moment it can be purchased for $ 49, which is very affordable for such a productive device. The plugin accurately reproduces the EMT 140 plate reverb, one of the most expensive and recognizable devices!
SLATE DIGITAL VERBSUITE CLASSICS
8 classic digital reverbs created over the last 40 years are available in this single plugin. Some of the devices have never previously been released in digital form. VerbSuite Classics reproduces the actual tone and reverb modulation characteristics using LiquidSonics' own Fusion-IR processing knowledge. Unlike the static impulse responses found in typical convolutional reverbs, Fusion-IRs are capable of cloning the evolving nature of modulated digital reverbs to create vibrant and compelling acoustic spaces that are so accurate for mixing music. Price: $ 199.
— See also: SSL Native Essentials Package: Legendary SSL Sound For Less Than 5 Euros —
EXPONENTIAL AUDIO NIMBUS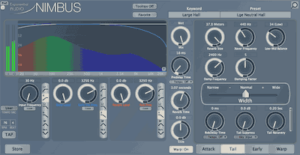 Exponential Audio Nimbus is an algorithmic reverb effect. According to the manufacturer, this plugin was used in several films by producers who received a Grammy. The space effect is accelerated to give the tail of the reverb more density and naturalness. There is also tempo synchronization to automatically calculate the pre-delay. Among the useful functions, one can distinguish the built-in compressor and expander with the deformation option turned on. To get inspiration and display all its capabilities, the developers have applied about 1200 presets. Price: $ 199.
LEXICON PCM NATIVE REVERB
Time passes, but the classics remain classics. Lexicon is famous for producing excellent reverbs, and it was not without reason that hardware was found in many well-known recording studios. Lexicon PCM NativeReverb consists of 7 separate plugins covering all the tasks of a mixing engineer: VintagePlate, Plate, Hall, Room, RandomHall, ConcertHall and Chamber. Price for all this flawless package: $ 299.
VALHALLA VINTAGEVERB / ROOM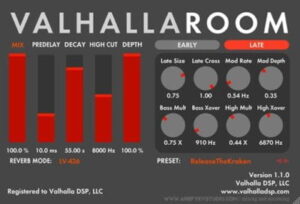 Vintage Verb is a universal recommendation in terms of workmanship and price! Good for thin short rooms and crazy modulated effects. It includes 17 algorithms covering the display of concert halls and even random non-repeating spaces. VALHALLA ROOM is adapted to display clean and realistic rooms. Comes with 12 algorithms. Both of these tools sell for $ 50.
— See also: Artificial intelligence Open AI learned to write songs with vocals —
VALHALLA SHIMMER

Valhalla Shimmer is one of our favorite tools. It is great for processing spatial, mysterious and measured mixes. The plugin is not the most natural, but the interface is minimalistic and easy to use. Shimmer also includes pitch shifting and bright / dark modes. Try it on your Techno and House tracks! Price: $ 50.
FABFILTER PRO-R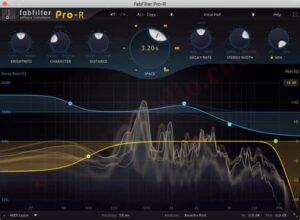 This plugin was released recently and quickly completed the projects of all engineers. PRO-R is an algorithmic reverb with natural sound and dozens of room models. The plugin is easy to customize according to the mix and it really sounds great. The overall reverb sound is quite lush and is known for its excellent realistic music spaces. Because of the clear sound, the Pro-R is virtually invisible and you will never have a problem with dirty sound layers. If you are looking for reverb that preserves the original audio without coloring the signal like vintage devices, then Fabfilter's Pro-R is your choice. Price: $ 199.
D16 TORAVERB 2

The first version was already highlighted by us in the 2016 review. The second, modern and finalized version of this reverb, recreates any room to achieve an excellent and rich result. Toraverb is equipped with two independent, single-band, fully parametric equalizers with 3 available curve types. Among the features we can distinguish: high-quality diffusion network, preliminary delay with additional tempo synchronization, controlled cross reflections and adjustable characteristics of the FX crossfader. Price: 69 $.
SOFTUBE SPRING REVERB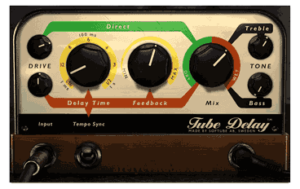 Like any spring reverb, Softube brings a lot of rich sound. This type of space is often used to fill guitars and always has an unusual sound. Use it to give volume to backing vocals, snare, percussion and electric guitars. Some musicians say that it sounds strange, but in some styles SOFTUBE SPRING REVERB emphasizes the artist's artistic decision. Price: 89 $.
— See also: Pulsar Audio – Smasher (free) —
EVENTIDE BLACKHOLE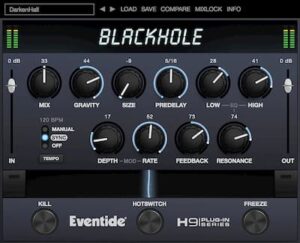 Eventide Blackhole is another high-quality reverb. This VST plugin is designed to create abstract spaces and is ideal for creative sound design. If you need a realistic room, then Blackhole is not the right tool. With the Mod-Depth and Mad-Rate settings, you can create very abstract effects and weird sounds. In addition, this plugin has a built-in equalizer. Price 199 $.
AUDIO EASE ALTIVERB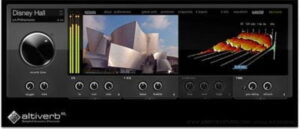 Audio Ease Altiverb is a fairly expensive, but ultimate convolutional reverb. Even if it loads the computer processor heavily, you will achieve the best results if you place your drums, guitars or orchestral instruments under the processing. As soon as you hear it, you will understand that this is one of the most natural and realistic pulsed reverbs among all the above. Price: $ 899 for the extended version.
Free VST Reverbs to Work:
TAL REVERB v1 – v4 – diffuse reverb sounds.
Dasample Glace Verb – algorithms for natural sound with 64 presets.
Smartelectronicx Ambience Reverb – classic spaces.
Voxengo Oldschool Verb – algorithmic vintage reverb.
U-He Protoverb – simulator of natural and experimental sound.