There are many types of cassette decks today: later models can achieve extremely high fidelity, while earlier or cheaper models can significantly color the sound before it even hits tape. The tapes were in different widths, from two inches to 1/8 "for compact cassettes; and tape speed can range from 30 ips on a professional machine to as little as 1,875 ips on a compact cassette.
Various lineups were also available: the humble compact cassette had three general types (iron, chrome and metal), each of which sounded very different, and three possible different noise cancellation systems (Dolby B, C, or S, although the latter is rare). There are several common characteristics we associate with tape sound, the most important of which is saturation. The tape approaches this limit very gradually and carefully. There is no unexpected hard ceiling like in the AD converter – instead, there is a smooth curve that begins to round and tame the peaks in the signal long before they reach the limit. This means that added harmonics disappear quickly as they become higher in frequency, more like a triangular wave than a square wave.
With this basic knowledge in place, let's check out a dozen of our favorite tape emulation plugins.
1. PSP Audioware Vintage Warmer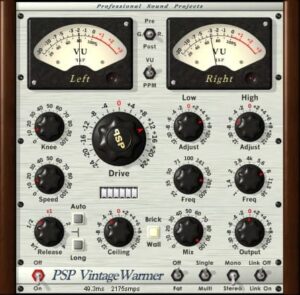 This plugin has been around for many years, becoming really vintage in a way. It's not the ultra-precise tape model we might expect from modern plugins, but it does provide a tasty saturation that sounds really good. Since it has been on the market for a long time, it can be found in many well-known works as an alternative to basic saturators.
Price: $ 149. Free demo for 30 days: PSP Audioware.
2. Steinberg Magneto MkIII
The original Magneto tape emulator pays tribute to the days when Steinberg first introduced the VST standard. The third version is built directly into the Cubase mixer, and the MkIII is available as a plug-in. Actual updates are no longer to be found, but you can read flattering reviews from the distant 2011, when this plugin became a discovery for the digital market.
— See also: IK Multimedia announces ARC System 3 —
3. Toneboosters ReelBus 4
Reelbus 4 doesn't bother with ribbon knobs – it's a clean and easy-to-use tabbed interface for grouping functions related to flanging, delay, and ribbon stop / start effects. Separate noise control is a nice bonus and a relatively unusual feature among tape emulation plugins.
Price: 39 euros. More on the website: Toneboosters.
4. FabFilter Saturn 2
The three Saturn tape styles simulate the saturation and frequency response of the tape, but the instrument does not offer other features such as noise or wah as it acts as an extended saturator. Despite the upgrade to the second version, the plug-in still does not load the computer processor and has advanced options for coloring your material.
Price: 129 euros. Free demo for 30 days: FabFilter.
5. IK Multimedia T-RackS Saturator-X
Saturator X includes several tape modes as well as other interesting options. Like FabFilter's Saturn, these are simplistic models that only focus on saturation, but again, this can be a nice bonus, helping to keep CPU usage low and avoiding distractions like minor offset levels. You do not need to go into details, just select the type of saturation and mix it in percentage.
Price: 80 euros. Free demo for 14 days: IK Multimedia.
6. IK Multimedia T-RackS Tape Machine Collection

Four plug-ins, each simulating a different classic cassette deck with its own recipe selection and the ability to adjust the bias level for a huge range of tapes. This kit will be useful for advanced users who want to enrich the sound with real cassette and tape emulation.
Price: 199 euros. Read more: IK Multimedia.
— See also: Ardor 6.0 – Free Mixing and Mastering Software for Linux, Mac, and Windows —
7. Slate Digital Virtual Tape Collection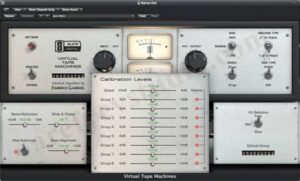 A well-known plug-in with a choice of multitrack or stereo deck, two different tape compositions, 15 "or 30" tape speeds, and three offset settings. VTC can be soft and transparent with little mixing or aggressive distortion. Since its release, the tool continues to occupy a revered place among the world's engineers.
Price: by subscription only (monthly cost – $ 9.99). More details: Slate Digital.
8. u-he Satin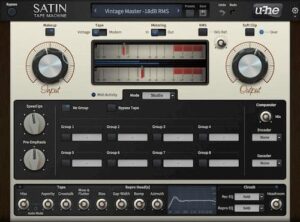 Satin is the most fully featured model on this list. We do not often mention the products of this company, since we are not able to use these plugins, but after testing the demo version, we were impressed! This plugin gives you complete freedom. An incredibly powerful and flexible tape emulator.
Price: 129 euros. You can download a free demo on the website: u-he.
9. Softube Tape
The default settings give the subtle, almost imperceptible sheen of a high-end car. Switch to other, brighter tape models, or decrease the speed to enhance grunge, or change the saturation structure to produce obvious distortion.
Price: 49 $. Read more: Softube.
10. iZotope Ozone 9 Vintage Tape
IZotope Ozone comes with a Vintage Tape module, which can also be used as a standalone plug-in when mixing a track. Although designed for mastering, the functionality, tape saturation technology, gives you complete freedom to process any audio source.
Sold only in the iZotope Ozone 9 set. The minimum cost is $ 699. More details: iZotope.
— See also: AMS Neve Releases 1073OPX Remote Controlled Mic Amplifiers —
11. Waves Kramer Master Tape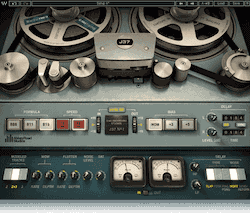 Kramer Master Tape simulates a dedicated stereo map used by Eddie Kramer at Olympic Studio (London). You can control noise level, wow / flutter and saturation. Alternatively, check out the Waves J37 Ribbon Saturator.
Currently on sale at a discount, only $ 29. Download free demo and also buy: Waves.
12. AudioThing Outer Space
This is not really a tape emulation plugin, but this instrument is a copy of the famous green delay block with the addition of spring reverb. The roughness and character are modeled with extreme precision, resulting in organic reflections of sound.
Price: 49 euros. More details: AudioThing.