Modern sound cards with Thunderbolt 3 provide speeds up to 40 Gbps and not only allow you to work without a single audio delay, but also include state-of-the-art ADC conversion, built-in DSP processing and other advanced features that we could not even dream of in just a few years. back. We suggest looking at various models under $ 1000 that are guaranteed to improve the quality of home and project studios, as well as consider more expensive sound cards for professional work.
Best Thunderbolt Audio Interfaces Under $ 1000
Universal Audio Apollo Solo (500$)
If this is your first time interacting with a Thunderbolt connection, then you can't go wrong with the UA Apollo Solo sound card. This is a great desktop sound card that has the same advanced features as the company's more expensive products. Apollo Solo boasts next-generation AD / DA converters and two Unison mic preamps. The package includes plug-ins "Realtime Analog Classics" for performing basic mixing and sound mastering tasks. The user can expand the list of plugins by purchasing a license for any emulation through his personal account. With Thunderbolt 3 connectivity, you can work with zero latency. Recently, the package includes a free LUNA program, specially designed to work with the company's products (you will not need to purchase a license for another DAW program, which will certainly save your budget).
MOTU 828x (850$)

The MOTU 828 series has been around for nearly two decades and these audio interfaces have played an important role in the development of countless home studios. Over the years, the 828 has gone through a series of iterations with various types of connections, including FireWire and USB. Now, thanks to the MOTU 828x, users can interact with an incredibly fast Thunderbolt connection. These interfaces have always offered amazing value, with two transparent mic preamps, plenty of analog and digital I / O, MIDI I / O, and a digital mixer with built-in effects. Fantastic AD / DA conversion, standalone mixer control and USB 2.0 connectivity complete the MOTU 828x's impressive feature set.
— See also: PLUGIN ALLIANCE and BRAINWORX Unveil AMEK EQ 200 —
PreSonus Quantum (995$)

If you want speed, the PreSonus Quantum has been named by Sound on Sound magazine "the fastest Thunderbolt interface on the planet." Quantum has impressive I / O for a 1U rackmount unit, including eight programmable XMAX preamps, two instrument inputs, and two ADAT I / O for adding additional channels. In addition, you can combine up to four interfaces for a total of 96 channels. The center section contains a bi-directional console and studio monitor controls, and a comprehensive software package complements the sound card's many benefits.
Best Thunderbolt sound cards under $ 2,000
Apogee Element 88 (1500$)

If you ask any professional enthusiast about cards with high quality AD / DA converters, Apogee will definitely be mentioned. Apogee Element 88 includes not only state-of-the-art sync and transducers, but eight studio-quality preamps with advanced step gain architecture, digital I / O for expansion and wireless control via your iOS device. Add to that ultra-low latency and two-way performance via Thunderbolt, and you can see why this sound card is a great choice for design studios. To top it off, the Element 88 boasts DualPath DSP-Native technology, allowing the Apogee FX Rack (sold separately) to run as native DAW plug-ins or for use on its own hardware DSP. This allows you to control effects with near zero latency.
Slate Digital VRS8 / VMS ML-1 (1600$)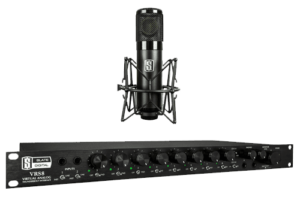 If you're looking to quickly jump into world-class studio sound, the Slate Digital VRS8 / VMS ML-1 package is no doubt about it. It includes a VRS8 Thunderbolt sound card and a VMS ML-1 modeling microphone. The VRS8 card features top-of-the-line AD / DA converters, eight VMS-ONE preamps, built-in monitor switcher and two headphone amplifiers. The VMS ML-1 is an ultra-linear large diaphragm microphone with neutral sound. The interface and microphone are impressive on their own, but the real magic begins when you launch Slate Digital's VMS hardware emulation software. With this revolutionary system, your humble Mac OS studio will be armed with a huge virtual closet of classic microphones.
— See also: Spotify can now promote music but receive fewer royalties —
Universal Audio Apollo x4 (1800$)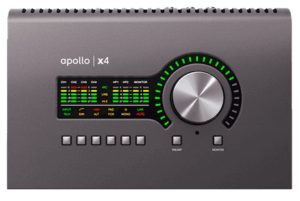 Universal Audio interfaces are top sellers and incredible! The Apollo x4 combines the sound quality and processing that the Apollo X series is renowned for in an elegant desktop format. Ideal for small design studios, the card lacks some of the features found in more expensive models, such as monitoring 5.1 surround sound and + 24dBu operation, while maintaining high performance compared to its more expensive elite siblings. The QUAD Core processor provides ample capability for unrivaled UA hardware emulation, allowing you to track and mix with convincing models of proven studio classics such as the included Realtime Analog Classics Plus kit. You also get compatibility with the free LUNA software, so you can record, edit, mix, and more without running any third-party software.
Best Thunderbolt audio interfaces over $ 2,000
Focusrite Red 8Line (2600$)
This red rack-mount unit is a truly professional device designed especially for commercial recording studios. The card not only works as a fast audio interface with Thunderbolt 3 connectivity, but you can also use it as an interface for Pro Tools | HD or I / O device on Dante network. AD / DA converters are unmatched, and two Red Evolution preamps deliver pristine sound that can be amplified by Focusrite's famous Air effect. This sound card offers a variety of analog and digital I / O, including dedicated outputs for monitoring your speakers and headphones. The Red 8Line is the perfect hub for any high-end production facility.
RME Fireface UFX+ (2800$)

This latest device in the RME Fireface line, equipped with MADI, is capable of handling up to 94 channels and boasts low latency Thunderbolt 3 and USB 3.0 connectivity, high quality AD / DA and optimized analog circuitry for perfect, crystal clear sound. The Fireface UFX + also includes four reference-level preamps and allows you to record up to 76 simultaneous channels directly to a USB stick via the DURec port. You will get the acclaimed RME TotalMix FX software mixer that simplifies unlimited interface routing, giving you lag-free monitor mixes with accelerated DSP effects, peak and RMS measurements, and remote control from your device.
Universal Audio Apollo x8p (3300$)

As we stated earlier, Apollo X sound cards are among our bestsellers. The Apollo x8p is one of the most feature-rich models in the series, featuring elite AD / DA sync and Dual Crystal sync for superior sound, and a powerful 6-core HEXA Core processor to run UAD Powered Plug-ins. You also get eight Unison preamps with discreet latency, and ultra-fast Thunderbolt 3 connectivity. Enjoy incredible 7.1 surround monitoring, up to + 24dB gain, built-in dual link and more. LUNA software compatibility rounds out the reliable Apollo x8p features.
— See also: Why don't most rock bands use keyboard bass? —
Lynx Aurora (n) 24-TB3 (5000$)

Lynx converters are highly regarded in the industry and the Lynx Aurora (n) 24-TB3 AD / DA is an example of this. Equipped with converter technology and advanced FPGA processing, this audio interface provides stunning transparency with negligible noise and distortion. The LT-TB3 option combines this stunning audio quality with ultra-low latency Thunderbolt 3 performance. The Aurora (n) 24-TB3 has everything you need to be at the helm of your studio.
Avid Pro Tools | HD Native Thunderbolt + HD Omni (5500$)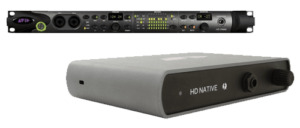 Avid Pro Tools is renowned for its low latency, high channel count, impeccable sound quality, and integration with their standard DAW software, Pro Tools. This sound card offers the same level of performance as the previously mentioned models, but also eliminates the large PCIe computer that these systems usually require for a compact and convenient desktop setup. The audio interface is compatible with most modern Thunderbolt-equipped computers, and includes the HD Omni with two superb-sounding digitally controlled preamps, plus additional analog and digital I / O integrated into the monitor section and featuring impressive Curv Avid analog technology.