We have selected the best reverb plugins that can be used in every style, including free versions, classic and algorithmic models.
Why is reverb selection so important for a good mix?
Reverb gives a sense of volume and fullness, which is so important for emotions. Reverb in some way glues sounds, making them a whole. Not all plugins are equal. Different types of reverb are good for different tasks, so it is unlikely that you will use the same plugin in every project and on every instrument.
We grew up on music that was pretty faceless. At the same time, they were not so worried about realism. Now the situation has changed dramatically, and the music practically stands on a high-quality reverb, reflecting the mood and idea of ​​the author.
* The expressions "in the end", "best" are subjective, and for each musician they are purely their own.
10 best reverb plugins in the world!
1. The best free reverb:
Togu Audio Line (TAL)-Reverb-II
TAL-Reverb-II includes classic reverb plates with a 3-band equalizer. The plugin has a nice interface and the right amount of presets. If you are well versed in reverb settings, this plugin will perform most of the tasks.
Also worth noting are TAL-Reverb-III and TAL-Reverb-4. These are the latest TAL reverbs. Each of them has its own processing algorithm and decently expands the musician's capabilities, especially if you need a free license.
---
2. Best Pulse Reverb: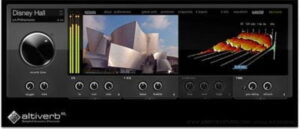 Altiverb 7
An excellent reverb that sets a standard. It uses impulses that accurately convey the characteristics of any space. Altiverb 7 includes many features and is worth the time to figure it out. Users of the plugin get access to the new monthly impulse libraries on the Altiverb 7 developers site.
As an alternative to this plugin, HOFA Plugins IQ-Reverb can be considered.
---
3. Best Reverb for Sound Design and FX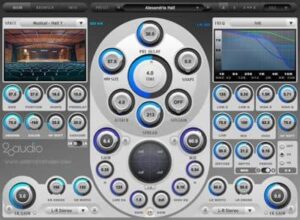 2CAudio Aether
2CAudio Aether, undoubtedly, occupies one of the leading positions in algorithmic reverb. The debut of this plugin took place in 2009 and essentially set a new bar, being unsurpassed in terms of sound quality, space and ease of use. Yes, it has a complicated interface at first glance, but if you twist it, everything will be very clear. Very suitable for movie effects.
An alternative to this plugin is Waves H-Reverb.
---
4. The best plugin sold in the kit
Waves Renaissance Reverb
You can talk about this reverb for a long time. For a long time it is used by world mixing engineers and does not lose popularity. It is convenient to use, it mixes reverb quite transparently (without low-frequency noise) and has an easy interface.
It is also worth noting the plugins included in the Waves packages, namely Waves TrueVerb and Waves IR1.
---
5. Best plugins with minimal CPU load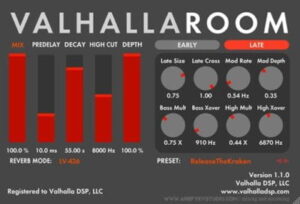 Valhalla Room / Valhalla Shimmer
If you do not need complex processing and resource-intensive plug-ins for information, then Valhalla reverbs will be the best solution. They have been developing their products since the distant 2011 and have proven themselves perfectly.
— See also: 5 best online music creation sites —
---
6. Best algorithmic / digital reverb emulator
Lexicon PCM Native Reverb Bundle
We can fill almost all categories of this list with a plugin from Lexicon, paying particular attention to 224 and 480 models. However, the official Lexicon reverb software package uses algorithms and presets from the more modern PCM96 hardware unit.
The main competitor in pricing is a plug-in analogue – ReLab LX480. Both of them give an almost identical result.
---
7. The best retro reverb (aka reverb with a "character")
Softube TSAR-1
It is worth noting this plugin with its powerful retro sound. Well suited for lovers of classics and authentic sound with a pleasant user-friendly interface.
An alternative will be the 112dB Redline Reverb.
---
8. Best spring reverb

UAD EMT 140
Like the Lexicon, the algorithmic EMT 140 is a reverb standard. A large block of equipment was released by German gramophone manufacturer Elektro-Mess-Technik (EMT) in 1957. EMT 140 – accurately emulates vintage sound, while having flexible settings and excellent quality.
Alternatively, consider Waves Abbey Road Plates.
---
9. The best plugin included in the DAW program
Reverb Pro
Workstation manufacturers are still stuffed with a variety of software to increase the cost and flexibility of the program itself. If you compare between the reverbs built into the DAW, then it is worth noting the Reverb Pro, which is included in the Ableton Live package. He impresses us the most.
— See also: The best VST plugins for vocals processing in 2018 —
10. The best reverb for electronic music
D16 Toraverb

The D16 developers are perhaps best known for their classic TB-303 drum machine emulator. The Toraverb reverb creates a lush and punchy sound, which is exactly what modern music needs.
As an alternative, we suggest considering extremely flexible and creative – Soundtoys EchoBoy