It's great to share your work with the audience, but creating a joint track with someone whose tastes match yours is even better!
Often happens when a musical idea does not end, and this draft version is gathering dust in the archives of your best practices. Why not finish it with someone who is also looking for help creating a track? We have selected the best sites for collaborations (co-creation of music) so that you can register and contact online with the whole world! The advantage in the active participation of these resources is enormous. You can meet new people, increase the audience, expand your base and get advice from professionals. Well, if there are difficulties with mixing and mastering, our studio is always ready to help!
1. Splice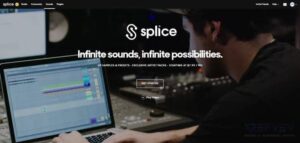 On this site you can find not only like-minded people in writing music, but also download free plugins, create your own community and open a public session. All this is beautifully and conveniently implemented. You do not have to download the track to yourself each time and listen to it in the player. This site has an internal player for these needs! It is worth noting that it does not have multilingualism, because basic knowledge of English will not hurt you!
Link: Splice
2. Kompoz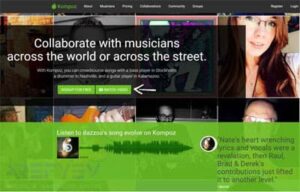 This amazing platform allows you to create music in real time, wherever you are. If you find a like-minded person from another country, then you can create parties at the same time (using cloud tools). Even if you open a free account and make a good product, you can sell it there and make a profit.
Link: Kompoz
— See also: The 6 best VST synthesizers of 2017 —
3. Blend
On this site you can share your music projects and decide who you want to work with. It is possible to put a restriction on access. You can cut excerpts from other remixes and transfer them to your project and show other musicians your outlook on their idea. Blend also provides backup of your workstation (DAW), so if something happens to the computer, you will have the opportunity to restore all projects.
Link: Blend
4. Vocalizr
Vocalizr is a resource that is knocked out of the general list. The site is intended not only for music producers, but also for vocalists. If you are looking for good vocals, but do not have the opportunity to record it, or if you don't have the right voice, this site will help you find this person.
Just place your project and cast for the voice that you like the most.
Link: Vocalizr
5. ProCollabs
ProCollabs is a site that offers not only music producers, but also sound engineers, composers, vocalists and other creative people. If you need a guitar riff, choir lyrics or backing vocals, you can find them on this site. Becoming a member of the club, and verifying the payment system, you can sell your services and even projects.
Link: ProCollabs
— See also: Mac vs PC: which is better for making music? —
6. Bandhub
This is a huge community of musicians and producers who are looking for new contacts for collaborations. In fact, you can create your own bands of musicians around the planet. Each member of the group will record his part, and at the output you will receive a holistic mix. The site has an application for online recording. You can also record not only sound, but also video through a webcam or a professional camera. And most importantly, it's free!
7. Melboss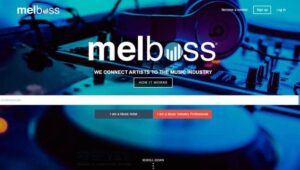 Melboss is a music center where musicians and producers get together. Share your compositions, find new contacts and communicate with professionals! Here you can find and choose your mentor. An individual review of project errors lasts at least 30 minutes.
Link: Melboss
Social media
It may seem commonplace, but most of the average daily traffic goes to social networks such as Facebook, Twitter, Youtube, Reddit, and others. Do not exclude the possibility of finding a musician for collaboration in certain thematic groups and pages. If you do interesting work, you will certainly be noticed!