We continue to reveal the topic of equipment for mixing and mastering music. Sound cards for home studios were previously reviewed. Now it's time for the headphones. We have something to offer you!
It is important to note that headphones are a very subjective thing. What one person chooses for himself, based on hearing, quality and comfort, may not be liked by another person. Therefore, this rating is purely our favorites. If you can highlight headphones that were not included in the list, write them in the comments.
 KRK KNS 8400
What can be noted:
Lightweight and comfortable: you can wear them for a very long time, do not press and do not irritate.
Inexpensive: compared to other professional headphones for mixing and mastering, they cost a little. The price on eBay is less than $ 100.
Durable: Three sets of KRK 8400 headphones were used in the studios. Compared with others – the appearance of exploitation has not been shown for a long time.
Sound: balanced. The perfect balance for studio headphones, in my opinion.
The KRK KNS 6400 was also tested, which is cheaper by $ 20. Do not buy them, they sound awful. It is better to spend a little more and buy a model KRK KNS 8400, which is suitable for studio, recording, mixing and mastering. If you are a more advanced user, then you can use the software from Sonarworks, which balances the frequency response (amplitude-frequency response). This will allow you to more accurately hear the project!
Sony MDR 7509
These headphones are very insidious. In the sense that all the problems of the project are turned inside out. Listening in them, I know what and where to fix it.
I like that these headphones are large and fit well, do not press and do not cut earlobes. Headphones are closed, which guarantees isolation from the outside world.
Frequency Capture: 5Hz-80kHz
Resistance: 24 Ohms
Sensitivity: 107 dB / mW
Price from $ 275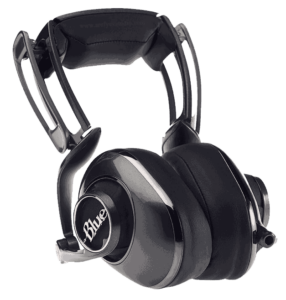 I often wear headphones and get used to their sound. These headphones are good for recording and monitoring in the studio. Headphones are active (charged from USB). They have a slight overstatement at low frequencies, which will undoubtedly be a plus for drummers. These are expensive headphones, but it seems to me that they are worth the money.
Frequency capture 15 Hz – 20 kHz
Resistance – 42 Ohms
Power 240 mW
Cost – from $ 400
These are very compact and high-quality headphones from the company Shure. Good for listening from mobile devices. They are not quite suitable for mixing and mastering music, but against the background of "earplugs" for the ears, with the suppression of external noise – this is an excellent product. Shure claims they provide -37dB isolation. They are not cheap, but in my opinion, ear health is more important.
Frequency capture: 20 – 19000 Hz
Impedance: 22 ohms
Sensitivity: 109 dB
Cost – from $ 280
— See also: 7 drum kit plugins that will be useful to every producer! —
Sennheiser HD 598SE/HD25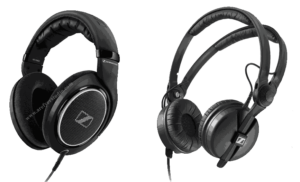 When I was asked to choose the best headphones for mixing and mastering, only these two models came to my mind. I officially declare that headphones are evil. But these two couples disprove my attitude towards them. They cover the full spectrum and give an excellent sound to the listener. Both models are designed for mixing and mastering.
HD 598SE (from $ 180) – an open pair of headphones at an affordable price (you can even say the cheapest in this segment). I prefer to use them in an isolated room where extraneous sounds do not interfere. Comfortable and do not put pressure on your ears.
HD25 (from $ 150) – closed type headphones. They sit on the upper part of the ear and quite effectively isolate from external noise. Well known among DJs. I use them in a noisy environment where I need to focus more accurately on mixing and mastering. However, I do not find them comfortable enough for long-term work.
Beyerdynamic DT 770 PRO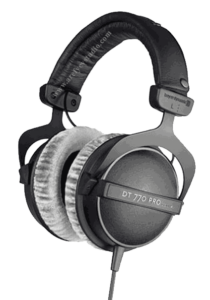 These are very famous headphones among studios. Some scold them for the inaccurate reproduction of low frequencies, which you need to get used to, and someone praises them. Comfort is of utmost importance, which allows you to work for a long time. In this sense, the DT 770 is a great solution. They are suitable for a professional studio, as well as for home mixing and mastering songs. The only minus of this pair is the closed type of built-in speakers that put pressure on the inner ear. I repeat, to choose whether it is suitable for you, it would be better if you visit a music store and try them on for yourself. It is also worth noting that you can fine-tune them with Sonarworks for clearer playback.
Frequency capture: 5 – 35 000 Hz
Impedance: 250 Ohm
Sound Pressure: 96 dB
Cost – from $ 180
Note the leaders in our list – these are headphones for mixing and mastering of the open type, which are chosen by many famous musicians. Headphones are quite specific, and if you have big earlobes, you should definitely try them on before you buy, because they may not suit you. But despite this slight minus, the headphones quite accurately reflect the frequency component of the project and do not put pressure on the head. You can work for hours in them.
The cost of headphones is from $ 500, which is the most expensive item on our list. But these headphones are undoubtedly leaders.