If you are a beginner musician and want to pick up an instrument for the first time, then now the music market has a very large selection of budget and pretty good guitars. You can fully learn on them and even record songs! We picked up the top 5 best budget electric guitars for 2017.
1. Squier Bullet by Fender

Squier Bullet – This is the cheapest guitar for beginners. Despite its low price, the tool will fully live up to expectations. This is a C-shaped guitar with solid build and simple wood. The bridge is equipped with a synchronous and flexible tremolo for vibrato effects. Material – maple, fingerboard made of rosewood. Prices start at $ 150 per tool.
Pros:
a large number of functions
3-system HSS
affordable price
attractive design
pure sound
Minuses:
difficult to control recording quality
some questions for tuning and assembly
---
---
2. Epiphone Les Paul Electric Guitar

Epiphone – it's a great alternative to dear Gibson. It has the traditional Les Paul sound with an 200T / 650R open coil, which eliminates clutter and focuses the listener on the melody. The guitar has the signature of the creator of the Les Paul guitar and it's cool! The instrument is made of solid wood and comes with a 10 W amplifier, which has a 3 meter cable. The kit also includes a chromatic tuner, a guitar strap and a carrying case. Price from $ 195 for a full set (not including delivery).
— See also: The best VST plugins for vocals processing in 2018 —
Pros:
affordable price
design Les Paul
sold as a complete set
coil 700T / 650R Humbuckers
eMedia software for playing in different languages
Minuses:
---
---
3. Full-Size Blue Electric Guitar
The full-size Blue Guitar is what you need if you have a limited budget. It is also sold as a complete set, including a guitar, belt, amplifier, strings and some additional elements. The guitar includes a nylon body and is made of hardwood. Starter pack from $ 95 (for beginners).
Pros:
cost
full set
system SSS
6 steel strings
available in various builds
Minuses:
---
4. Jackson JS23 Dinky DKA
This guitar weighs about 3.5 kg with a linden body and maple fingerboard. Provides excellent mid and high frequency sounds. Feature of the tool in the form and quality of execution. Sold in black and white (wood) color. Prices start at $ 299.
— See also: 5 best online music creation sites —
Pros:
licensed Floyd Rose tremolo system
high performance and excellent assembly
three position switch
Minuses:
you need to get used to frets (due to the peculiarities of grinding)
---
---
5. Gibson Les Paul Standard 2016 T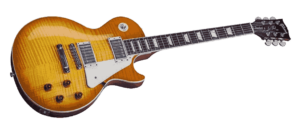 For those who have an unlimited budget, take a look at the classic legendary electric guitar Gibson Les Paul Standard 2016 T. The neck is made of mahogany, on the neck is a thick plate made of rosewood with cloth oil. Price from $ 2269 for a basic set.
Pros:
pickups Burstbucker Pro
all elements of premium quality
light weight
Minuses:
---
---
All the electric guitars presented here are a great choice to start. If you can afford Gibson, then buy with confidence. If the budget is limited, the Les Paul Electric Guitar, which has a very close design and sound, is a great option.