The best jobs often do not have open vacancies. They are not talked about publicly and do not post vacancies in ads. The profession of a sound engineer covers many structures, so you can pay attention to these institutions:
Bars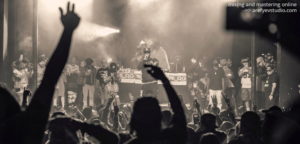 Bars are an easy place for a first event experience. They are in every city and often have live performances on weekends. In terms of work, as a person who works with sound, you will be responsible for everything related to the show: loading audio, setting up equipment, sound check, lighting and other technical aspects. It sounds intimidating, but as a rule, having a small amount of equipment does not require a lot of money. For such a position, they take one person with minimal experience and education. The pay for the work is small and may also depend on tips for the day. In order to get a position as a sound engineer in a bar, talk to the manager/owner and he will sign a contract with you. If the vacancy is closed – take contact details for future information.
Theaters and houses of culture
These venues are built for concerts, so they have more specialized staff. The work is not for one person, which means it is easier to find an open position. Sound and light assistants are often required in nightclubs, theaters, concert venues and cultural centers.
If you're just starting out as a live sound engineer, you're more likely to get hired as an intern. The trainee performs the most energy-intensive tasks, of the "bring-give" type: bring, unload, set up, set up lights, racks and other little things. If you are interested in lighting, you can ask if it is possible to work as a lighting specialist.
Clubs are a great place for a talented person. You will have the opportunity to explore all aspects of live shows. Payment is usually made in cash at the end of the night (shared among all staff)
— See also: 3 Best Electronic Music Creation Software in 2022 —
Production Campaigns
Production campaigns are service providers for businesses. The range includes the supply of sound and lighting equipment, as well as the work of specialists at third-party sites. To get a position in this field, just find the site and apply. Some of them may be national (government), others – local.
Freelance
If you want to be an independent worker, then freelancing is the perfect option. Nowadays, the market is crowded, and it will be quite difficult to find a part-time job. Some freelancers prefer to work in groups and tour places and cities every night. The advantage is that when joining such a group, you do not need to buy equipment (it is taken for the whole group). Minus – in unstable wages.
Ups and downs
No matter which route you take, remember that a career as an audio engineer has its ups and downs. Summer is the busiest period of the year (many artists schedule tours for the summer), while winter is the least work (people are not in the mood to freeze at concert venues). Open vacancies appear in the spring and, due to high competition, are quickly closed.