Below are some of the best sample copper libraries available for 2018. All but one position is based on the Kontakt sampler. They do not have a specific ranking order, but we tried to organize them sequentially, presenting similar collections. A few things to consider when choosing a library:
Variety of tools
Multiple microphone positions
Articulation Availability
Special FX or advanced gaming techniques
Solo and ensemble selection
Signal Processing Ability
Character or style
1. Spitfire Symphonic Brass
This library sounds incredible from the first note. This is a symphonic collection, which presents solo horns, trombones (including bass and double bass), trumpet, tuba, double bass and kimbasso (which in the last few years has become very desirable for dubbing films because of its hoarse quality). Horns, pipes and trombones include samples a2 and a6, which sound huge and majestic. The double bass tuba is the perfect complement to a beautiful, low-resistance growl. There is a standard range of articulations (legato, marcato, tenuto, staccato, trills, rips / falls, fluttering, etc.). Price – $ 699.
2. Kirk Hunter Concert Brass 2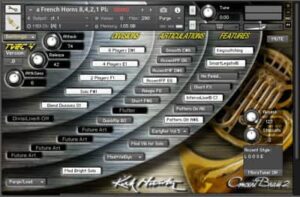 The Kirk Hunter Concert Brass 2 collection is staggering in terms of overall sound and some interesting intellectual processing. Although other libraries may not have a choice of microphone location, here it is compensated by a wide variety of articulations (for example, accents at different dynamic levels) and a quick transition from the main interface to groups of instruments: solo, two, four or eight players. This is a great choice if you are looking for the sound of a large concert hall. The price is $ 249.
3. CineBrass Complete Bundle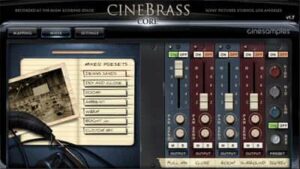 The CineBrass Complete Bundle comes with three amazing libraries:
The CineBrass Core Library is a Cinesamples orchestral sample library recorded on the world-famous Sony Pictures Scoring Stage in Los Angeles and mixed by legend Dennis Sands.
CineBrass Pro is an extension of the Core library. The company turned to users and the filmmakers community for information on which sounds to add, and as a result, this extension appeared.
CineBrass Descant Horn – expands the assortment of the Horn section. Professional klaxons often pull this instrument out for delicate high aisles and are great for soaring solo parts. Like Core and Pro, the CineBrass Descant Horn was recorded at the MGM scoring stage in Los Angeles.
A full package costs $ 829 and saves about $ 120 compared to taking them separately. The first thing you see when you start the library is the mixer interface for the microphone position with some common presets, such as ambient, warm, dry and closed, bright, etc. The "Settings" window provides some effects, envelope control and dynamics. Trumpet Ensemble preset effects are especially suited for short group beats or beats available with a single key.
CineBrass Pro is packed with special copper effects for every possible scenario, powerful chords with a preliminary voice, legato solo instruments and lush ensembles. Full Ensemble FX patches are very inspiring! This package is one of the best we have heard, and especially its extended version as a complete package.
4. EastWest Hollywood Brass GoldX
This is the only tool in this article that is not based on Kontakt. Instead, EastWest provides its own plugin to access its sample libraries. They also offer a subscription-based interaction model that can be attractive to those who want to access a huge collection of quality designs for a nominal monthly fee (starting at $ 24). Prices for students are also quite reasonable. If you decide to receive all the packaging, we strongly recommend that you deliver the samples to the supplied hard drive. Download time is painfully slow (perhaps done on purpose).
Hollywood Brass GoldX is a comprehensive set of solo and grouped brass with many switchable keys and effects. Elongated trills, tears, shakes and dynamic waves sound tough and effective. In addition to adding another monthly bill to your budget, you will not go wrong with EastWest materials. Price: 199 dollars.
5. Symphobia 1 by ProjectSAM
In addition to the magnificent set of orchestral sounds in general, the wind section in Symphobia ProjectSAM is especially good for producing a truly balanced copper sounding ensemble. Although the versatility of a full-fledged copper library may be lacking in terms of articulation, grouping of instruments and other functions, it is incredibly intuitive. These are great-sounding brass samples, and given that the library also contains strings, woodwinds and more, Symphobia is well worth the money. Also available in the series are Symphobia 2 with additional effects and articulations, and Symphobia 3: Lumina for choral and fancy orchestral textures. Price: $ 549
— See also: 5 analog compressors as VST plugins —
6. MOJO 2 by Vir2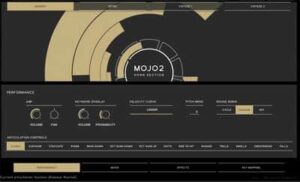 MOJO 2 is dedicated to solo instruments and also includes several woodwind instruments (saxophones, clarinet, piccolo). It would be a good choice for those who want to write unique instrumental combinations. However, you can create large groups on the mixer panel (up to 10 players), and with the help of the humanization and distribution of stereo you can simulate large sections.
This is the second manifestation of the library, the first version of which was released in 2009. It includes three microphone positions, a decent selection of displayed keys, circular selections and a full range of processing effects, including convolution, reverb, tape saturation and cabinet emulation. Unique to MOJO 2 is the Eras selection. There are four Era parameters that significantly change the output, as described in the manual:
Modern: The Modern era focuses on modern recording trends with full frequency spectrum and ultra-high fidelity. Horns will have full low-frequency frequencies and a bright air top, but they will sound extremely well balanced.
Retro: The Retro era focuses on the rich, saturated analog tones of the 60s and 70s. Full expansion of the low frequencies is slightly tamed, and rich and slightly grainy harmonics give the sound a warm and pleasant shade.
Vintage 1: The first of two tones of the Vintage era focuses on the sound of the 40s and 50s. The tone of the big band era is less full than retro or modern, with focus in the 1 kHz band, with the upper and lower frequency ranges being significantly cut. You will notice less stereo imaging and a naturally beautiful "dirt".
Vintage 2: Vintage 2 brings us back to the early days of the record of the 1920s and 1930s. The tone has some similar qualities to Vintage 1, but at a more extreme level. You will hear a much stronger focus in the upper midrange and even less ups and downs. What remains of the tone is the rich character characteristic of this era of recording.
7. Swing More! by ProjectSAM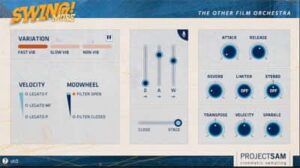 As the name suggests, this library focuses on the sounds and ensembles of big bands. It has three microphone positions, several legato styles and the sound of big band chords with inversion. In addition to a complete set of copper samples, the library includes saxophones, clarinet, guitar, bass, banjo, mandolin, ukulele, drum kit, piano, vibes, drums, strings and even female vocals!
Presetting Full Big Band Chords is really fun! Keys with switchable roots and inversions, as well as articulated joints make it a truly playable tool. The tool interfaces provide instant access to change or articulate vibrato depending on presets, microphone levels, envelopes, effects and include visualization of the speed level and the position of the modular wheel. Multi-tools include many ensembles capable of shooting noir textures on Broadway. From the point of view of copper instruments there are bass and tenor trombones and pipes. The copper part of the collection is just a small part of this library, but if you need great big bands and small ensemble sounds, it has exactly what you need. The price is $ 479.
8. Fanfare by Sample Logic
Sample Logic has taken a special niche in the market with instruments that break the line between sound design and acoustic instruments. Their interfaces are visually inspiring, making tools that are much more interesting to explore. Fanfare is Kontakt Player's groundbreaking virtual instrument, combining the DCI World-Champion Blue Devils wind march with the award-winning Sample Logic sound design. Get from traditional marching wind instruments to full-blown cinematic scenes, as well as an unusually versatile and inspiring set of tools for creating films, television, game composers and producers.
Selected instruments include euphonium, mellophone, trombone, pipe and tube. Presets fall into two main categories – traditional and morphic, which are more sonic typical sounds, including atmosphere, beats and much more. If you like Fanfare, you will also like their Stadium Instruments collection. Part of this library was recorded at the stadium. Ralph Wilson (formerly Rich Stadium) and the home of Buffalo Bills. If you want a fancy collection of brass textures and weird sound designs with the taste of a brass band, test Fanfare. Price: $ 299.
— See also: 7 free plugins that add warmth to the track —
9. Analog Brass and Winds by Output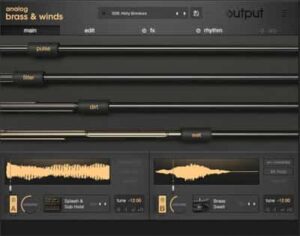 We previously noted this library among the best products for the design and production of music. The unique qualities of this library make it convenient to place in categories of sound landscape or instrumental library. The main interface of this tool and all elements of Output as a whole are elegant and enjoyable to use. Many may argue that the graphic design of the interface is not associated with sound capabilities or potential. We do not agree.
It is likely that the company or developers who are so keen on visual implementation, also pragmatically and holistically collect everything under the hood of the tool. This also affects usability and overall experience. Agree, not everyone wants to work with a product that looks extremely unpleasant.
Four programmable sliders dominate the main GUI and can radically change the effect of any given preset. They, of course, can be displayed in MIDI and have different functionality depending on the settings. One of the great attributes of this tool and others from Output is a searchable menu matrix that speeds up the process of getting the sound you need. If you already have a pure orchestral copper library, then this product will be the perfect complement! Price: 199 dollars.
10. FORZO by Heavyocity
We recently reviewed this tool in our blog, so we will not repeat it. Like Analog Brass, it can also be easily seen as a tool for sound design, as well as a copper library. See review for more details. Price: $ 549
You will certainly not be disappointed with any of the libraries mentioned here. It really is a matter of context and what kind of sound you need. It is not unusual for us to use three different DAWs for any of the projects, because each application has its own strengths. Tools and plug-ins for processing effects are no different. In fact, if you use the same plugins or tools in every project, it may be time for a change. You will be surprised how using another tool can breathe new life into your creative stream.