To get a Grammy, you certainly need to sign up in a professional studio using the most modern equipment, and the amount of money you put into recording is reflected in the amount of attention your music will receive … NO! In fact, most producers and musicians agree that the technical side, the concern about the most ideal conditions, kill creativity. Remember your first years of recording with a cheap microphone and your brother's guitar. Was there really no desire at that moment to create something great? Let's look at Billy Eilish, who won 4 Grammy Awards this year.
Why is Billy Eilish?
She won 4 Grammys at the age of 18. She is young, original, modern and successful performer and songwriter. Her presence in front of the camera is so natural that you will immediately want to become her friend. In this article we want to show you how modest her equipment was, which was used to record the best songs of the album.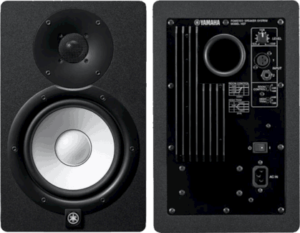 Her debut album "When We All Fall Asleep, Where Do We Go" was recorded in her parents' bedroom, and took Finneas O'Connell worked as an engineer. Billy says working with his brother is perfect as they composed music together. Some tracks were recorded by consumer products such as the Audio-Technica AT2020 Condenser Microphone. Another important element is the Yamaha HS 5 pair, one of the smallest and most affordable Yamaha near-field monitors.
Since the Billy Eilish genre is a form of commercial pop music using electronic sounds, a subwoofer is also needed during processing, so the Yamaha HS8 Studio was used, a great choice for matching with the HS 5.
Perhaps the most expensive device is their Universal Audio Apollo 8 Quad sound card, and it's a great choice for high-quality sound on your iMac with Apple Logic Pro X. An interesting fact: more than half of the album was brought together by Logic stock plug-ins!
— See also: Streaming services increased sales by 32% compared to the same period last year —
Now, when Billy became known to the whole world, they took care of new gadgets, and as rumors reach, they have been updated: the microphone (now Neumann TLM 103 is used), the sound card (Universal Audio Apollo x8) and monitors with HS 5 have grown up to HS eight.
In total, it was spent on creating one of the most popular albums of our time:
Audio-Technica AT2020 microphone: up to $ 200.
Yamaha HS 5 monitors: price per pair – up to $ 400.
Universal Audio Apollo 8 Quad Sound Card: Up to $ 1900.
daw Apple Logic Pro X program: $ 199.
Yamaha HS8 Studio Subwoofer: $ 500
Total: $ 3199.
We cannot guarantee that with the same set of equipment you will receive a Grammy, but this is a great example of the fact that even the most expensive analog device does not affect the final result of the performer. It's not that you need to worry about the technical side or money, but that you need to feel comfortable creating creative space and building cooperation with people whom you can fully trust. We wish you a creative upsurge, and in case of difficulties with mixing and mastering, we are always ready to act as support and provide the best result!