Once you have created the track, done mixing and mastering, it's time to publish it to stores such as Spotify, Itunes, Apple Music, Amazon Music, Youtube Music or Beatport. Some of the best free music aggregators that we will cover in this post:
Routeenote
Soundrop
Amuse
Awal
Indiefy
Fresh tunes
Bandcamp
There are several free solutions to distribute your fixed income tracks. For example, a distributor receives 15%, and you save 85% of sales. Basically, this arrangement of income makes sense for independent musicians. Some of the best music aggregators for 2018/2019 are Soundrop, Awal, Routenote, Bandcamp, Amuse, Fresh Tunes, Level Music, Distrokid. All these platforms do not have annual and registration fees, some of them are completely free digital music aggregators, while others charge a commission.
The 7 best free music aggregators in 2022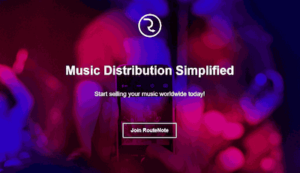 Routenote is a digital music distribution platform founded in 2007. They are based in the UK and offer two tariff plans to choose from: free and premium. In a free package, the company takes 15% of the commission on your income, the premium plan, in turn, pays 100% of the income, but you will have to pay for the publication of materials. You can switch between tariffs at any time, which is good news. According to the service, the materials will be published in 200 music stores and streaming services (including Asian and Chinese). You can withdraw income as soon as the balance of your account reaches the minimum threshold amount of $ 50.
Main venues: Apple Music, Itunes, Spotify, Amazon Music, Google Play, Deezer, Youtube, Shazam, Pandora, Melon, Soundcloud, Juke mymusic, Groove Music, Claro Musica, Tidal / WiMp, eMusic, Napster, Omnifone, Anghami, Gracenote , Kanjian, + 30 Chinese stores.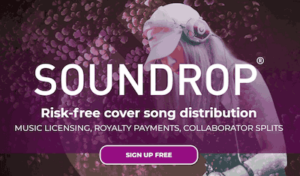 Soundrop Music Distribution is a replacement for Loudr.fm, whose service was closed in 2016. They offer free distribution on Youtube Music, Apple Music and Spotify, but take 15% of the revenue. Soundrop also includes RevSplitter, an effective way to share earnings between members so that every producer, artist and composer gets a set percentage of sales.
Available stores: YoutubeMusic, AppleMusic, iTunes, Spotify, AmazonMusic, GooglePlay, Deezer, Pandora, Netease, Xiami, Yandex, Tencet, Uma. The minimum payable amount from the account is $ 20.
— See also: Comparative table of the best streaming services (for 2019) —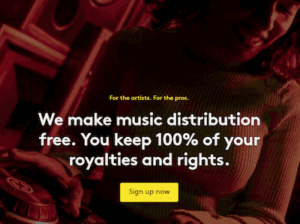 Amuse platform was founded in 2016 and offers 100% free music distribution. Download files and publish them in just a few days. You can also download them in wav format via iOS or Android application. A prerequisite will be an account in Google Drive, Dropbox or Icloud. Only with one of these cloud services can you send your songs directly to Amuse. Once the artist has earned $ 10 or more, you can withdraw them to your PayPal account.
Additionally: the company finds artists and offers them record deals, including marketing, financing, promotion and placement in playlists. In this case, the profit is divided in half (50 to 50%).
AWAL was founded in 2003 and is owned by Kobalt Music. Currently represents more than 4000 artists and labels. The service is created only for invited artists. You can send your music, but Awal will consider the quality of the material, the coverage of social networks, press releases and other information from open sources.
The platform distributes music to 200 sites and takes 15% of the earnings. The site provides data analytics, marketing solutions, playlists and statistics from radio stations, as well as a separate application for receiving traffic information.
— See also: What equipment does BILLIE EILISH use? —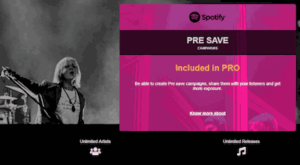 Using the Indiefy Aggregator Service, you can publish your music to streaming portals at no charge. This provider is relatively new and has been offering its services only since 2018. It takes the standard 15% of earnings and offers placement of tracks in more than 35 of the largest online music stores.
To withdraw money from your account, you must reach a minimum threshold of $ 100. Only after that transfer to PayPal account will be available.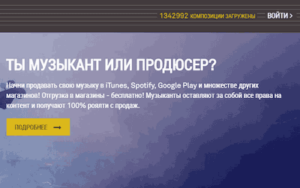 Freshtunes is another free music aggregator. They will not take a penny for the work and you will receive 100% of your royalties. Just upload your music, and after 24 hours the album or EP will be immediately available in Spotify, Itunes, Deezer and other stores (14 sites in total). Another plus is the pre-order feature for the upcoming release. The minimum withdrawal from your account is $ 25 and you can get them directly to your bank card, Payoneer or WebMoney account.
— See also: 5 bad habits that spoil the quality of voice recording in the studio —
Bandcamp Distribution Service is ideal for distribution in all available ways. You can offer to download your songs for free, request users email address and set the price of an EP or album yourself. Another nice feature is the integrated store for distribution of goods, vinyl discs, CDs and cassettes. Detailed statistics are also available to build further marketing decisions. Bandcamp is not an exclusive distributor, so you can continue to distribute your music to other resources, such as Spotify.
Bandcamp will take the already familiar 15% of revenue and offer regular payments to your PayPal account immediately 24-48 hours after the sale. One of the few streaming services that allows you to work with the formats FLAC, Wav and Apple Lossless.
How to upload STEMS files to Beatport?
The STEMS format includes 4 musical elements and can be used by remixers and DJs in NI Hardware or Traktor. To release on Beatport, Juno Download, Traxsource, Whatpeopleplay, Wasabeat or Bleep, you can use one of these resources:
Digdis!
Fuga
Finetunes
Labelworx
Symphonic
Move Music Distribution
Jamvana
— See also: 13 best microphones of 2019 for recording vocals, instruments and podcasts —
Asian music distributors
There are several distributors specializing in the Asian market. You can sell your music in India through stores such as Saavn, Gaana or Wink. Major streaming companies in China are QQ Music from Tencent, QianqianMusic (BaiduMusic), Kugou Music, and Kuwo Music. Visit their sites for more information.
How much can you earn?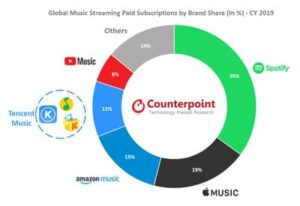 Streaming services don't make a lot of money, but as a musician, you should still be featured on Youtube, Spotify or AppleMusic. Artists receive most of their income from concerts, but, like many others, gathered their fan base around the world and distribution was an integral part of the promotion.
Suppose you generated exactly 1 million plays on one of the following sites. Estimated income will be:
Napster – $ 19,000
Tidal – $ 12.500
AppleMusic – $ 7,350
GooglePlay – $ 6,760
Deezer – $ 6,400
Spotify – $ 4,370
Amazon – $ 4020
Pandora – $ 1,330
Youtube Music – $ 690
— See also: 12 best transients shapers to add punch —
Smart links
Once the music has been released on Spotify and iTunes, it will be useful to announce it to your subscribers. This will help smart link services for music marketing. On each of them, one can note links to all the main streaming services: